Hydrex propeller blade modifications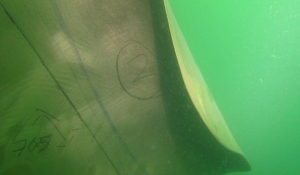 (Posted on 21/07/19)
Recently teams of Hydrex diver/technicians performed propeller blade modifications on several bulk carriers and tankers. In Singapore, Cẩm Phả and Amsterdam cropping was the only option for the damaged blades while in Rotterdam the bent areas on a bulk carrier's propeller blades could be straightened.
The four blades of a 190-meter bulk carrier's propeller were severely bent. An on-site solution was needed to restore the propeller's balance and efficiency. A team was therefore mobilized to Cẩm Phả, Vietnam to bring the damaged blades back as close as possible to their original condition.
After the equipment arrived at the vessel's location the team started the operation with a detailed survey of the affected propeller blades. The inspection revealed that the four blades were bent over angles of 90 to almost 180 degrees.
The team then used the information acquired during the inspection to calculate and determine the exact measurements needed to modify the trailing edges of the propeller blades.
Next the divers cropped the blades and ground their edges to give them the correct radius. When the cropping was complete, they polished the blades to make sure that any remaining loss of efficiency would be minimal.
In Singapore only two of the four blades of a 183-meter tanker needed to be cropped using this technique. The other two propeller blades had suffered small cracks and dents along their trailing edges. Because the damage to these blades was limited, cropping was not required. The divers grinded away the cracks and polished the edges of the blades to prevent further cracking.
A 220-meter tanker in Amsterdam had lost the tip of one of its propeller blades. The opposite blade had not been damaged, but it was also cropped to keep the propeller's balance.
Four of the five blades of a 182-meter bulk carrier had small bent areas on the tip and trailing edge. These were straightened one by one during the ship's stop in Rotterdam.
As the other vessels in this article, the bulk carrier could continue its schedule without going off-hire to drydock and with the performance of the propeller restored.
Latest News
(Posted on 20/03/23)
AXSMarine, a pioneer and market leader in the provision of advanced solutions for shipping professionals... Read more
(Posted on 20/03/23)
Shipzero is enabling transport and logistics companies to create transparency about their emissions... Read more
(Posted on 07/03/23)
The Isle of Man Ship Registry (IOMSR) has become an associate member of The International Association... Read more
(Posted on 07/03/23)
The wellbeing of crew members is becoming more important to shipping companies says leading catering... Read more
(Posted on 28/02/23)
Canada based Algoma Central Corporation has reported its results for the year ended 31 December, 2022... Read more
(Posted on 24/02/23)
Ukrainian seafarers have largely returned to international shipping thereby restoring balance in crew... Read more
(Posted on 24/02/23)
The Chairs of the Round Table of International Shipping Associations met in Athens last week to renew... Read more
(Posted on 21/02/23)
AXSMarine, a leading provider of SaaS shipping software and data for decision making in the chartering... Read more
(Posted on 20/02/23)
Algoma Central Corporation and The CSL Group, who together form the CSL International Pool have announced... Read more
(Posted on 20/02/23)
Swiss marine power company WinGD has launched a pilot project for a new engine diagnostics solution... Read more