Historic results, outstanding performance and innovations for Logistec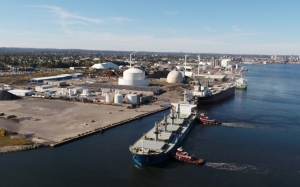 (Posted on 24/03/23)
LOGISTEC Corporation, a leading marine and environmental services provider, has announced its financial results for the year ended 31 December, 2022. Pursuing its long-term sustainable growth strategy, LOGISTEC was able to report historic results surpassing an all-time high in an economic context favourable to our activities.
2022 Highlights
"The year of LOGISTEC's 70th anniversary was a memorable one for its record results, outstanding performance and remarkable innovations," said Madeleine Paquin, President and CEO, LOGISTEC. "LOGISTEC is well-positioned for sustainable growth with financial strength, diversification, a unique business model, an extensive North American terminal network and innovative environmental technologies. I am grateful to all the members of our team, our customers and our partners for their continuous support, collaboration, trust and loyalty."
Consolidated revenue reached $897.6 million, an increase of $153.9 million or 20.7%;
Adjusted EBITDA (1)closed at $142.1 million, up $21.3 million;
Total diluted earnings per share of $4.12, up 19.1%;
"Our 2022 financial performance once again exceeds our expectations on key financial metrics for the year," added Carl Delisle, Chief Financial Officer and Treasurer of LOGISTEC. "Thanks to the ingenuity and dedication of our people, thought-out diversifications, organic growth and strategic acquisitions over the last few years, LOGISTEC has continued to build a more resilient platform while expanding our reach, scope and expertise to our customers.
2022 Results – Strong Financial Performance
Consolidated revenue totaled $897.6 million in 2022, an increase of $153.9 million or 20.7% over fiscal 2021. More importantly, we achieved record adjusted earnings before interest expense, income taxes, depreciation, and amortization expense ("Adjusted EBITDA") (1) of $142.1 million and a profit attributable to owners of the Company of $53.5 million, a first in our history. These earnings also led us to achieve another milestone: earnings per share ("EPS") above $4.00 per share, with total diluted earnings per share computing at $4.12 per share.
The marine services segment handled record volumes in response to high demand in the supply chain and delivered great results with 2022 revenue closing at $565.8 million, compared to $427.0 million, an increase of 32.5% over 2021. Operations expanded at Lemont (IL), a strategic gateway to the greater Chicago area markets and other Midwest states. The company strengthened partnerships with key ports, signing long-term agreements across our network.
LOGISTEC reported a profit for the year of $54.0 million, of which $53.5 million was attributable to owners of the Company.
In today's environment, as both our business segments evolve, adapt and grow, we will leverage the strength of our network of marine terminals to support reliable and sustainable supply chains and help our customers solve their most complex environmental challenges. Our 2022 results served as clear evidence of the resiliency of our business and the benefits of our focused strategy. Both segments offer solutions to capitalize on growth opportunities in response to current market trends and key environmental imperatives.
LOGISTEC has a history of continuous growth for over 70 years. In the last 10 years, the marine services segment, a mature industry, has grown revenue at an impressive 14.7% compound annual growth rate ("CAGR"). LOGISTEC is a leader in handling dimensional parts such as wind energy components. The safe handling of over-dimensional cargoes is growing fast and our experts in the field are recognized internationally as the best terminal operators, by the International Heavy Lift Awards. We remain confident that our customers, partners and communities will present us with great opportunities to support resilient supply chains.
On the environmental front, our customers and communities are facing unprecedented challenges.
Latest News
(Posted on 05/06/23)
Peel Ports Group is investing £28 million on a new facility at the Port of Liverpool in its biggest... Read more
(Posted on 02/06/23)
Vancouver Fraser Port Authority CEO Robin Silvester has announced that he will be leaving the port authority... Read more
(Posted on 31/05/23)
AD Ports Group , the Abu Dhabi based leading facilitator of global trade, logistics and industry, has... Read more
(Posted on 31/05/23)
The World Port Climate Action Program (WPCAP) will be extended with a new focus on shore power, new... Read more
(Posted on 30/05/23)
Ships sailing from the North Sea via the Westerschelde to unload dry bulk goods at OVET's quay in Vlissingen... Read more
(Posted on 23/05/23)
The problematic trend in the world economy is affecting Port of Hamburg throughput figures. As in other... Read more
(Posted on 23/05/23)
A senior delegation from United Arab Emirates (UAE) visited Karachi and met with H.E. Faisal Sabzwari... Read more
(Posted on 16/05/23)
Two new electric harbour cranes, representing an £8.6 million investment, are the latest arrivals... Read more
(Posted on 14/05/23)
At a ceremony held during the transport logistic trade fair in Munich, Algis Latakas, General Director... Read more
(Posted on 08/05/23)
Associated British Ports (ABP's) Port of Ipswich, the UK's leading grain export port, has... Read more