Genco crew change under new Singapore protocols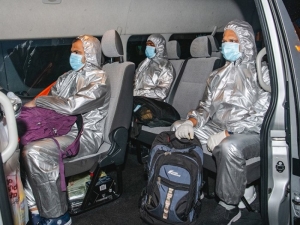 (Posted on 15/06/20)
Genco Shipping & Trading Limited, the largest U.S. headquartered dry bulk shipowner focused on the
transportation of major and minor bulk commodities globally, announced the successful full crew
change of the Genco Liberty, a 180,032 DWT Capesize vessel, marking the first full crew change
under new COVID-19 protocols in Singapore. A total of 37 seafarers were involved in this crew
change, which was completed on June 6, 2020 and executed in accordance with protocols
established by Genco, Singapore's Maritime and Port Authority (MPA) and the Synergy Group.
John C. Wobensmith, Chief Executive Officer, commented, "Amid the outbreak of COVID-19,
many individuals have been onboard oceangoing vessels in excess of the duration of their
contracts, keeping them away from their families. Port restrictions, difficulty arranging travel and
ensuring the health of the on-signing crew members have all posed unique challenges that have
prevented many shipowners from being able to undertake crew rotations in a safe and effective
manner. Since the beginning of the COVID-19 crisis, we have worked diligently to promote the
health, safety and well-being of our crew and to find a solution to return these individuals to their
home country. For the Genco Liberty, we identified an opportunity to undertake a crew rotation in
Singapore, as many of the dedicated 21 crew members have been onboard this vessel for longer
than their original contract timeline due to COVID-19. We thank the MPA for their leadership and
collaboration efforts with Genco and the Synergy Group in establishing innovative protocols that
facilitated the first full crew change in Singapore since March and in making this industry led
engagement a possibility. We also thank our crew members for their perseverance and sacrifice
during such difficult times."
The protocols developed by Genco, the MPA and the Synergy Group established quarantine and
repatriation procedures for seafarers to protect health and safety, taking into account factors such
as testing, the availability of personal protective equipment, travel and logistical issues, and the
safety of the local community.
These industry leading protocols include that all arriving crew members were quarantined for 14
days prior to boarding the vessel, receive personal protective equipment kits, and were
administered Polymerase Chain Reaction (PCR) tests prior to travel. Genco continues to work on
conducting crew changes where permissible by regulations of the ports and origin of the mariners,
in addition to strict protocols to safeguard our crews against COVID-19 exposure.
Captain Rajesh Unni, Founder & Chief Executive Officer of Synergy Group, the Singapore-based
ship manager appointed to the Genco Liberty, commented, "At Synergy Group, we have been
working diligently to conduct crew changes since the outbreak of COVID-19 and we are grateful
to Genco for taking the lead together with the MPA and the Singaporean government. We would
like to continue to see more crew rotations occur globally as other countries can now look to the
successful Genco Liberty crew rotation as the blueprint to help return these seafarers to their
families."
Genco Shipping & Trading Limited transports iron ore, coal, grain, steel products and other
drybulk cargoes along worldwide shipping routes. As of June 8, 2020, Genco Shipping & Trading
Limited's fleet consists of 17 Capesize, six Ultramax, 20 Supramax and 10 Handysize vessels with
an aggregate capacity of approximately 4,837,000 dwt and an average age of 9.9 years.
Latest News
(Posted on 26/11/23)
Shi.E.L.D. Services has selected Spinergie as its preferred digitized solution provider to monitor and... Read more
(Posted on 26/11/23)
Thousands of cadets and trainees in India will benefit from in-depth wellness training and support thanks... Read more
(Posted on 17/11/23)
As shipping continues its journey to decarbonisation, INTERCARGO will host a special forum in Athens... Read more
(Posted on 13/11/23)
INTERCARGO was deeply saddened and concerned to hear of the reported appalling missile attack on the... Read more
(Posted on 13/11/23)
A new-look Wellness at Sea Awareness Campaign for seafarers, their families and shore staff that &ldquo... Read more
(Posted on 05/11/23)
Classification society DNV has entered into a Joint Development Project (JDP) with AL Group and its... Read more
(Posted on 31/10/23)
Samsung Heavy Industries (SHI) and leading classification society DNV have inked a Memorandum of Understanding... Read more
(Posted on 31/10/23)
WISTA International, during its Annual General Meeting (AGM) held in Montevideo, Uruguay, on 25 October... Read more
(Posted on 31/10/23)
Members of INTERCARGO met in Athens last week for the Association's Annual General Meeting, Executive... Read more
(Posted on 26/10/23)
The Columbia Group (Columbia) has opened a new manning agency, Columbia Shipmanagement Vietnam (CSM... Read more