Game changing electric cranes for ABP Ipswich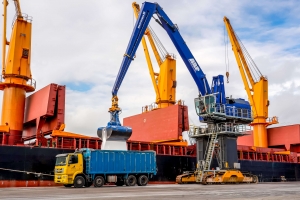 (Posted on 11/11/21)
Blue cranes at Associated British Ports' (ABP) Port of Ipswich will soon be turning green. A new supply contract with Cooper Specialised Handling has been agreed which will deliver some of the first fully mains electric powered hydraulic cranes in the UK to the port. This £4 million investment is another step in ABP's companywide policy to reduce CO2 emissions and energy consumption. The company expects all cargo handling operations at the Port of Ipswich to be fully electrified within the next five years.
The Mantsinen model 95ER is destined for use at the Port of Ipswich. It has been configured around the specific workings of the port operation. To enhance efficiencies, each machine will be ready supplied with innovative insight reporting systems that can further reduce energy. This model will replace the diesel-powered version and will improve ABP's cargo handling service to its customers.
The Port already has some 4,000 solar panels installed onsite which could power the two new cranes. ABP have also invested in an electricity sub-station infrastructure that is future-proofed to accommodate up to four electric powered cranes working concurrently on the same quay.
Commenting on behalf of ABP Paul Ager Divisional Port Manager East Coast said: "This investment shows that going green does not cost the earth. In addition to reducing our CO2 footprint, we estimate that these electric cranes will save in excess of 40% in energy costs. The electrification of our cranes will also significantly reduce noise emissions.
"At ABP, we have firm plans to decarbonise our ports. We know greener operations is important to our customers too and we are listening."
Speaking on behalf of Cooper Specialised Handling, Executive Director, David Cooper commented: "This is truly a landmark supply and hope this is the first of many. We congratulate ABP on their foresight and vision in opting for electric power. We have noticed a significant increase in interest in both direct electric power and Mantsinen's dual power (electric and diesel in one machine) however, infrastructure costs become a barrier that often thwarts further investment. ABP have tackled this head-on and will yield the cost and environmental benefits in the years ahead"
Latest News
(Posted on 26/11/23)
A 194 million euro investment in North Sea Port will secure large-scale CO2 reduction by the largest... Read more
(Posted on 17/11/23)
The Central Association of German Seaport Operators (ZDS) has called for a decisive German port policy... Read more
(Posted on 13/11/23)
A groundbreaking feasibility study has highlighted the potential for using clean ammonia to refuel ships... Read more
(Posted on 05/11/23)
IAPH has announced the ratification by the IAPH Council of the new IAPH Board. The Board is formed by... Read more
(Posted on 05/11/23)
CN has announced that it acquired from Genesee & Wyoming Inc., a stake in the Cape Breton &... Read more
(Posted on 31/10/23)
Due to continued very high inflation, the Hamburg Port Authority (HPA) will raise port fees by an average... Read more
(Posted on 31/10/23)
The UK's leading ports group, Associated British Ports (ABP), has appointed Jeff Gibb as Lead... Read more
(Posted on 26/10/23)
In the first nine months of 2023, there was 6% less throughput in the port of Rotterdam: 329.9 million... Read more
(Posted on 26/10/23)
After nine months, the total throughput of Port of Antwerp-Bruges was 204.4 million tonnes, a drop of... Read more
(Posted on 19/10/23)
LOGISTEC Corporation have announced that it has entered into an arrangement agreement with 1443373... Read more