"Game changer" in Gulf of Guinea piracy fight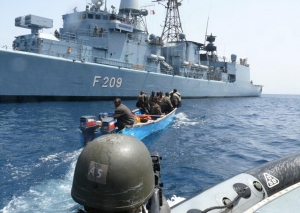 (Posted on 14/06/21)
Nigeria has announced a significant investment in military and law enforcement infrastructure to secure its maritime domain as part of a stepping up of actions to address the ongoing piracy issue in the Gulf of Guinea. Managed by the Nigerian Maritime Safety Agency (NIMASA), the multi-agency project will significantly increase maritime security in the region, an area blighted by piracy, armed robbery, and other maritime crimes.
A central command and control centre based in Lagos will oversee a network of integrated assets including two special mission vessels, two special mission long- range aircraft, 17 fast-response vessels capable of speeds of 50 knots, three helicopters, and four airborne drones, providing 24/7 cover for the region. These complement the Yaounde ICC structure offering real capability to both Nigeria and the region.
It is the hope of the industry organisations that Deep Blue, coordinated with other navies and programmes through the mechanism of the GOG - Maritime Collaboration Forum/SHADE, will seriously impact on the ability of pirate groups to prey on merchant shipping.
Guy Platten, ICS Secretary General said, "The Deep Blue Project can be a game-changer in the fight against piracy in the Gulf of Guinea, and we congratulate Nigeria in launching the project despite the significant difficulties presented by COVID."
"We look forward to continuing our close cooperation with NIMASA and the Nigerian Navy to realise our shared vision of a region free from the threat of piracy and armed robbery."
David Loosley, BIMCO Secretary General, said "Deep Blue becoming operational represents a significant opportunity to expand law and order at sea in cooperation with international forces in the area. We look forward to seeing Nigeria make the best of these assets to the benefit of Nigeria, it's citizens and economy, and of course the seafarers from all over the world going about their daily business in the Gulf of Guinea."
Katharina Stanzel, Managing Director of INTERTANKO, said: "INTERTANKO believes that the launch of the Deep Blue Project is a tangible demonstration that the tide has turned against the scourge of piracy. This project has the potential to greatly contribute to seafarers being once again able to carry out their duties without fear for their safety.
"We thank the Nigerian authorities for recognising the issue and putting these measures in place – all within the constraints of the ongoing Covid-19 situation."
Kostas Gkonis, Secretary General of INTERCARGO, said "Along with our sincere congratulations to the Nigerian authorities on the launch of this important initiative, on behalf of the dry bulk shipping sector, we very much anticipate that the Deep Blue Project will make a significant impact in reducing piracy and armed robbery, protecting seafarers, ships, and the essential trade that serves the peoples of countries in the region."
Latest News
(Posted on 26/11/23)
Shi.E.L.D. Services has selected Spinergie as its preferred digitized solution provider to monitor and... Read more
(Posted on 26/11/23)
Thousands of cadets and trainees in India will benefit from in-depth wellness training and support thanks... Read more
(Posted on 17/11/23)
As shipping continues its journey to decarbonisation, INTERCARGO will host a special forum in Athens... Read more
(Posted on 13/11/23)
INTERCARGO was deeply saddened and concerned to hear of the reported appalling missile attack on the... Read more
(Posted on 13/11/23)
A new-look Wellness at Sea Awareness Campaign for seafarers, their families and shore staff that &ldquo... Read more
(Posted on 05/11/23)
Classification society DNV has entered into a Joint Development Project (JDP) with AL Group and its... Read more
(Posted on 31/10/23)
Samsung Heavy Industries (SHI) and leading classification society DNV have inked a Memorandum of Understanding... Read more
(Posted on 31/10/23)
WISTA International, during its Annual General Meeting (AGM) held in Montevideo, Uruguay, on 25 October... Read more
(Posted on 31/10/23)
Members of INTERCARGO met in Athens last week for the Association's Annual General Meeting, Executive... Read more
(Posted on 26/10/23)
The Columbia Group (Columbia) has opened a new manning agency, Columbia Shipmanagement Vietnam (CSM... Read more