DNV: industry should embrace robust safety culture to tackle transformations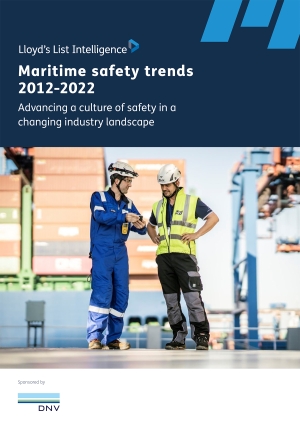 (Posted on 17/05/23)
A new report from DNV and Lloyd's List Intelligence, "Maritime safety trends 2012-2022: Advancing a culture of safety in a changing maritime landscape", found a surge in the number of safety incidents involving machinery damage or failure.
With incidents on the rise, more needs to be done to address safety, particularly as the industry faces uncertainties related to decarbonization and digitalization. The analysis found that the overall number of safety incidents increased by 9% in 2022, driven by a 12% increase in incidents involving machine damage or failure. This highlights the importance of developing a better understanding of new technologies and placing equal value on human, organisational and technological elements, helping to cultivate a robust safety culture in maritime companies and within the industry.
"New technologies, alternative fuels and more advanced digital systems offer many solutions, but they also bring increased uncertainty and new risks," said Knut Ørbeck-Nilssen, CEO Maritime, DNV. "Rules, procedures and guidelines continue to be essential elements, but they mean less if they are not embraced by crew, or if they don't become ingrained in the safety culture of a company. This will lead to a deeper awareness of the safety hurdles and a more comprehensive understanding of new technologies."
Maritime stakeholders, are encouraged to collaborate transparently in the safe transition to new fuels and technologies by contributing to the development of training programs that are safe, reliable and realistic. Improved safety can also be achieved through more proactive investment in the psychological and physical welfare of a ship's crew and onshore workers.
The importance of knowledge sharing and collaboration are also highlighted in the report. The transition to new engine types and new fuels may lead to machine failure and accidents, and shipping companies should share what they have learned from these incidents so that the whole industry can achieve improved safety standards.
"Fundamentally, safe shipping relies on good leadership. We urge all players in the industry to put aside their competitive instincts and contribute to improved safety standards for all. This will ensure that every mistake can be learned from, and we all continue to maintain progress while – much more importantly – minimizing the risk to human life and the environment," said Ørbeck-Nilssen.
Latest News
(Posted on 03/12/23)
The Dry Bulk and LNG segments have borne the brunt of restricted transits, particularly due to their... Read more
(Posted on 03/12/23)
Columbia Shipmanagement (CSM) is set to further boost operational efficiency on its vessels, as crew... Read more
(Posted on 26/11/23)
Shi.E.L.D. Services has selected Spinergie as its preferred digitized solution provider to monitor and... Read more
(Posted on 26/11/23)
Thousands of cadets and trainees in India will benefit from in-depth wellness training and support thanks... Read more
(Posted on 17/11/23)
As shipping continues its journey to decarbonisation, INTERCARGO will host a special forum in Athens... Read more
(Posted on 13/11/23)
INTERCARGO was deeply saddened and concerned to hear of the reported appalling missile attack on the... Read more
(Posted on 13/11/23)
A new-look Wellness at Sea Awareness Campaign for seafarers, their families and shore staff that &ldquo... Read more
(Posted on 05/11/23)
Classification society DNV has entered into a Joint Development Project (JDP) with AL Group and its... Read more
(Posted on 31/10/23)
Samsung Heavy Industries (SHI) and leading classification society DNV have inked a Memorandum of Understanding... Read more
(Posted on 31/10/23)
WISTA International, during its Annual General Meeting (AGM) held in Montevideo, Uruguay, on 25 October... Read more