DNV and PCL to expand collaboration in ESG and key operational areas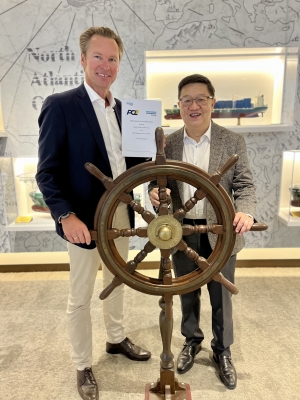 (Posted on 08/09/23)
Classification society DNV has signed a Memorandum of Understanding (MoU) with Singapore-based ship owner and operator Pacific Carriers Limited (PCL). The MoU builds on an earlier agreement signed back in 2020, with a renewed focus on Environmental, Social, and Governance (ESG) topics, amongst others.
PCL was incorporated in 1973 to support the Kuok Group's dry cargo shipping needs and has since transformed into a global maritime logistics solutions provider to many commodities and trading companies worldwide.
Under the MoU, DNV will be collaborating with PCL on sustainable, future-proof vessel designs and decarbonization strategies to accelerate the development of alternative fuels with net-zero in mind. In addition, DNV and PCL will continue earlier efforts to enhance PCL's ESG roadmap as well as fleet management and optimization measures.
"We welcome the recent revision to GHG emission reduction targets by IMO at the MEPC80. I am pleased to continue the collaboration with our valued partner – DNV – in areas of new ship designs and alternative fuels, which are key in our endeavour to net-zero," said Hor Weng Yew, Chief Executive Officer and Managing Director of PCL.
Knut Ørbeck-Nilssen, CEO Maritime, DNV said: "The maritime industry is rapidly changing, driven by digitalization and stricter regulations pushing for fleet decarbonization. The renewed MoU between DNV and PCL highlights our strong partnership in pursuit of improved operational efficiency and reduced GHG emissions. We're excited to continue leveraging our broad expertise to support PCL's transition."
Echoing this sentiment, Cristina Saenz de Santa Maria, Regional Manager South East Asia, Pacific & India, Maritime, DNV, said, "We are pleased to be growing our partnership with PCL through this MoU today, which signifies their confidence and trust in our technical capabilities. As experts in the field, DNV has the know-how and experience to support PCL in mitigating risks and achieving its emission goals in a safe, quality manner."
Earlier this year, DNV published a white paper on the role of biofuels in shipping's future energy mix and launched Emissions Connect, a cloud-based platform which allows for the real-time verification and sharing of data across the maritime value chain.
DNV is the world's leading classification society and a recognized advisor for the maritime industry. They enhance safety, quality, energy efficiency and environmental performance of the global shipping industry – across all vessel types and offshore structures. We invest heavily in research and development to find solutions, together with the industry, that address strategic, operational or regulatory challenges.
Latest News
(Posted on 27/09/23)
As the global shipping industry today celebrates World Maritime Day with its central theme of &ldquo... Read more
(Posted on 26/09/23)
Leading provider of secure maritime data communications software, GTMaritime, has reached 15,000 installations... Read more
(Posted on 26/09/23)
Posidonia Exhibitions, organisers of Posidonia, the International Shipping Exhibition, is launching... Read more
(Posted on 19/09/23)
Seven months after its formal launch, NorthStandard is already realizing tangible benefits from combining... Read more
(Posted on 12/09/23)
Maritime nuclear technology company CORE POWER has boosted its Global Advisory Board with four new high... Read more
(Posted on 12/09/23)
Foreship has relocated its UK subsidiary to larger premises and appointed Tuur Killaars as Senior Sustainability... Read more
(Posted on 08/09/23)
Leading blended learning provider Intelligent Seas Group (ISG) is delighted to announce its collaboration... Read more
(Posted on 04/09/23)
Record year-on-year declines in rainfall has been identified as the 'likely culprit' for... Read more
(Posted on 04/09/23)
After years of keeping a vital navigation service operating on the same income, Middle East Navigation... Read more
(Posted on 28/08/23)
Torvald Klaveness and Lauritzen Bulkers, leading global dry bulk shipping companies, have announced... Read more