CP sets Q1 grain record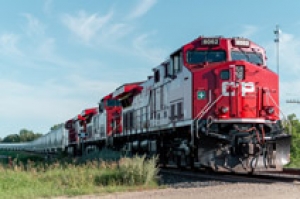 (Posted on 22/04/20)
Canadian Pacific's first quarter of 2020 was the best Q1 on record for Canadian grain and grain products, with more than 6.35 million metric tonnes (MMT) moved. The 2020 result breaks the company's previous first-quarter record, set in 2016, by 300,000 metric tonnes.
Canadian Pacific is a transcontinental railway in Canada and the United States with direct links to major ports on the west and east coasts.
"The CP family of operating employees delivers service excellence, day in and day out," said Joan Hardy, Vice-President Sales and Marketing Grain and Fertilizers. "Whether it's our employees operating the trains that bring railcars to the elevators, the teams that plan our train movements, or those who maintain our tracks and infrastructure, everyone is making sure assets are turned safely and efficiently. The COVID-19 pandemic has brought challenges to their work, but it has also strengthened their commitment to delivering. The combined efforts across CP, supply chain efficiency and a strong demand environment from our customers contributed to these records. Now more than ever, keeping the grain supply chain moving is critical to the wellbeing of North America and the world."
As of March 31, 2020, CP's movement of grain for the 2019-2020 crop year was 18.53 MMT, a 6 percent increase compared to last crop year.
The supply chain advancements by CP and its customers are yielding significant productivity gains from field to rail to port. CP's investment in high-capacity hopper cars will see 5,900 new cars added to the railway's grain shipping fleet. CP's fleet of new grain cars, now at more than 2,500, is adding more than 1.1 tonnes of extra grain per railcar compared to the same period last year. The new hopper cars can carry 10 percent more volume and 15 percent more weight compared to the older cars they are replacing.
An 8,500-foot High Efficiency Product (HEP) train can carry in excess of 40 percent more grain than the 7,000-foot train model when combined with the additional capacity of the new hopper cars. Customers are actively investing in their elevator networks to accommodate 8,500-foot trains. There are currently 14 elevators on CP's Canadian network that are 8,500-foot HEP qualified, and 14 more projects underway. By year-end more than 30 percent of the CP-serviced unit train loaders will be 8,500-foot HEP qualified, increasing capacity and efficiency in the grain supply chain for customers and stakeholders.
"We're committed to delivering for our customers and farmers as seeding activities ramp up across western Canada," said Hardy. "With significant volumes of fertilizer and potash shipped in 2020 to date, our customers are well-positioned for application as part of the spring planting processes. I wish farmers a successful and prosperous season."
Latest News
(Posted on 26/09/23)
The Port of Rotterdam Authority and Yokogawa Electric Corporation have initiated a feasibility study... Read more
(Posted on 19/09/23)
HES Gdynia in Poland has started the construction works of a grain storage facility extension in port... Read more
(Posted on 12/09/23)
A joint Statement from the United States and the European Union has been released on support for Angola... Read more
(Posted on 08/09/23)
Associated British Ports has announced the successful renewal of a lease agreement with Breedon Group... Read more
(Posted on 04/09/23)
In North Sea Port, the transportation of goods to the hinterland by inland waterway continues to increase... Read more
(Posted on 28/08/23)
Both the tense economic situation in Europe, especially in Germany, and background geopolitical factors... Read more
(Posted on 21/08/23)
Abu Dhabi based AD Ports Group has announced its financial results for the second quarter of 2023, reporting... Read more
(Posted on 14/08/23)
SOHAR Port and Freezone in the Sultanate of Oman, has signed a land lease agreement with Sohar Noble... Read more
(Posted on 09/08/23)
CN has published its 2023-2024 Grain Plan, which builds on the operational improvements introduced this... Read more
(Posted on 02/08/23)
The Maritime Standard is delighted to announce the unveiling of the second session, titled 'Ports and... Read more