CP sets date for combination with KCS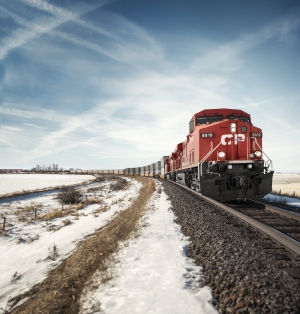 (Posted on 28/03/23)
Canadian Pacific has said that, on 14 April, 2023, it will exercise the authority granted by the U.S. Surface Transportation Board's ("STB") on 15 March final decision and combine with Kansas City Southern ("KCS") to create Canadian Pacific Kansas City ("CPKC"), the first and only single-line railway connecting the U.S., Mexico and Canada. CP also announced the executive leadership team that will lead CPKC.
"Our new combined railroad will create a truly unique single-line network connecting three nations and instantly injecting new competition into the North American rail industry when our supply chains have never needed it more," said Keith Creel, CP President and CEO. "The public, environmental, competitive and safety benefits of this historic combination, clearly recognized by the U.S. Surface Transportation Board, are extraordinary for our employees, communities, rail customers and the North American economy.
"Under the leadership of the exceptional group of railroaders we announce, CPKC will bring new options to rail customers while increasing safety, improving service and spurring new investment in our railroad network," Mr. Creel added. "Together, all these benefits will create jobs and drive economic growth in North America.
"We acknowledge the thorough and thoughtful consideration put into the STB's final decision, including the conditions it imposes in order to assure that the transaction's public benefits are realized and any potential harms are avoided. We intend to participate cooperatively and proactively to assist the STB during its oversight process and will honor the conditions the STB has imposed," Mr. Creel said.
As previously announced, Mr. Creel will become President and CEO of CPKC.
Latest News
(Posted on 05/06/23)
Peel Ports Group is investing £28 million on a new facility at the Port of Liverpool in its biggest... Read more
(Posted on 02/06/23)
Vancouver Fraser Port Authority CEO Robin Silvester has announced that he will be leaving the port authority... Read more
(Posted on 31/05/23)
AD Ports Group , the Abu Dhabi based leading facilitator of global trade, logistics and industry, has... Read more
(Posted on 31/05/23)
The World Port Climate Action Program (WPCAP) will be extended with a new focus on shore power, new... Read more
(Posted on 30/05/23)
Ships sailing from the North Sea via the Westerschelde to unload dry bulk goods at OVET's quay in Vlissingen... Read more
(Posted on 23/05/23)
The problematic trend in the world economy is affecting Port of Hamburg throughput figures. As in other... Read more
(Posted on 23/05/23)
A senior delegation from United Arab Emirates (UAE) visited Karachi and met with H.E. Faisal Sabzwari... Read more
(Posted on 16/05/23)
Two new electric harbour cranes, representing an £8.6 million investment, are the latest arrivals... Read more
(Posted on 14/05/23)
At a ceremony held during the transport logistic trade fair in Munich, Algis Latakas, General Director... Read more
(Posted on 08/05/23)
Associated British Ports (ABP's) Port of Ipswich, the UK's leading grain export port, has... Read more