Cooperation is crucial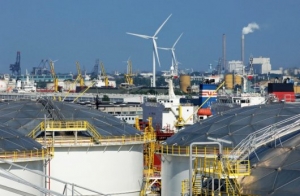 (Posted on 30/05/19)
The Netherlands is about to witness the emergence of significantly larger offshore wind farms. In addition to resulting in estimated double revenues for the wind energy industry by 2030, this will lead to the creation of around 25,000 to 30,000 new jobs. 'We have already started preparing for these changes. Flexibility, cooperation with other ports and knowledge creation are all crucial,' says Femke Brenninkmeijer.
The port of Amsterdam region is a top player in dry bulk; Amsterdam is the second largest coal and agribulk transhipment port in Europe and world's largest cocoa port.
Brenninkmeijer, who heads up Port of Amsterdam's Energy, Cargo & Offshore department, regards the development of new offshore wind farms as an excellent opportunity for AYOP to step up efforts to make the energy transition a reality. AYOP is an acronym for Amsterdam IJmuiden Offshore Ports, a partnership between the ports of Amsterdam, IJmuiden, Velsen and Zaanstad, which are located at an average distance of 20 miles from the wind farms earmarked for construction.
Brenninkmeijer: 'We benefit from an excellent operational base. The port of IJmuiden is located on the seaward side, which is used for the maintenance of the materials used – including turbines, nacelles and the massive blades. It is also home to the sea lock, whose size, depth and width are set to be extended in 2022 in order to accommodate the supply of the wind farms. In our own area behind the lock, we have designated a space of 35 hectares for offshore wind farms. Numerous companies located in our hinterland are, in fact, already involved in installing the facilities, providing power cables, and storing large parts for the turbines. These operations are very complementary to each other.'
The partnership between the ports is essential, as wind farms are rapidly increasing their operational scale. Whereas two years ago turbines averaged a capacity of around six megawatt (MW), today we are seeing the construction of turbines with a power rating of more than 10 MW, including for the designated wind farm zone Hollandse Kust (with its southern and northern sites).
The southern site of the Hollandse Kust wind farm zone includes two 700 MW wind farms, while the northern site comprises one wind farm of this size. The wind farms at the northern site and the southern site are located just 22 miles and 18 nautical miles from IJmuiden, respectively. The construction of the southern site of the Hollandse Kust wind farm zone is scheduled to start in 2020, followed by the construction of the northern site in 2021.
Brenninkmeijer feels the rapid growth of the wind energy industry is a game changer for the area: 'We have been working together for some time through the network hub for oil and gas, but if revenues from the new wind energy cluster were to increase tenfold, we're going to need all our ports more than ever.'

As Brenninkmeijer explains, this will need to involve more than cooperation alone: 'We will also need to ramp up efforts to generate new knowledge through educational institutions such as the University of Amsterdam, Techport and Nova College. The main challenge, in any case, will be hiring and training sufficient numbers of qualified technical staff for large-scale offshore wind farms. Marketing and Sales will also need to ramp up their game by coming up with more competitive propositions if we want the new on-shore wind energy sites to really come into their own."
Latest News
(Posted on 23/01/23)
In the presence of the UAE President His Highness Sheikh Mohamed bin Zayed Al Nahyan, and the President... Read more
(Posted on 16/01/23)
The Port of South Louisiana (Port SL) CEO Paul Matthews, has announced that it has entered into a Purchase... Read more
(Posted on 16/01/23)
With 73.6 million tons of cargo transhipment from maritime shipping (+7%) and 64.5 million tons from... Read more
(Posted on 12/01/23)
Despite unfavourable economic conditions, traffic in the port of Dunkerque, the third largest port in... Read more
(Posted on 10/01/23)
North Sea Port CEO Daan Schalck has been looking back as well as forward. 2022, was a year in which... Read more
(Posted on 10/01/23)
A multi-million-pound deal has been agreed to build a new road salt storage facility to support Scotland... Read more
(Posted on 10/01/23)
Ports Minister Rita Saffioti has announced Samuel McSkimming as the new CEO of the Pilbara Ports Authority... Read more
(Posted on 04/01/23)
AD Ports Group has delivered on its commitment to produce remarkable results and extend its international... Read more
(Posted on 23/12/22)
A new industrial property has been added to the Thorold Multimodal Hub in Canada, a growing industrial... Read more
(Posted on 20/12/22)
The Department of Transport and Main Roads (DTMR) in Australia is undertaking public consultation on... Read more