Continued economic instability impacts Port of Antwerp-Bruges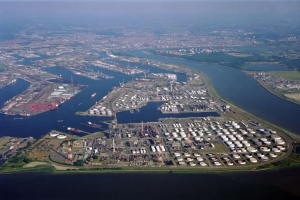 (Posted on 26/10/23)
After nine months, the total throughput of Port of Antwerp-Bruges was 204.4 million tonnes, a drop of 6% compared to the same period last year. The still unstable geopolitical and economic conditions are negatively impacting demand for container traffic around the world, while the picture is still mixed for other cargo flows. Thanks to the strong international position of the unified port, for which sustainable growth remains the priority, the market share of the container segment is growing compared to the other ports in the Hamburg - Le Havre range.
The dry bulk segment fell by 14.6%. Throughput of fertilizers, the largest product group within dry bulk, decreased by 24.2% after nine months, but has shown an upward trend since the summer which is expected to continue in the last quarter.
Compared to the peak in 2022, coal throughput is now showing a decline (-36%). In contrast, throughput of sand and gravel grew by 7.4%, while volumes of iron ore, scrap and non-ferrous ores fell by 70%, 5% and 2%, respectively.
The Eurozone economy is under pressure from interest rates, which have risen sharply. Despite the drop in energy prices, the global economic situation also remains volatile and future indicators point to a continued economic downturn. As a result of this uncertain economic climate, containerised trade flows are falling around the world.
Conventional breakbulk is holding up relatively well despite the weak economic climate, with throughput volumes in line with the pre-covid period. Compared to the same period in 2022, which was marked by a strong post-covid recovery, throughput is down 18.6%. Due to a drop in European steel production and lower demand, throughput of steel, the main commodity group within this segment, is down 17.6%.
The liquid bulk segment saw a decline of 2.9%. Throughput of liquid fuels grew by 8.7% thanks to a strong growth of 42.7% in throughput of diesel compared to throughput of gasoline (-3.7%) and naphtha (-22.7%). Throughput of LNG (-6.7%) is also down. Although chemical exports are up 5.4%, a drop in imports (-18.3%) led to a decrease of total chemicals' throughput by 11.5%. ? The competitiveness of the chemical sector in Europe is under pressure due to high energy, raw materials and labour costs combined with low global demand.
Roll-on/roll-off traffic remains unchanged (0.9%). Throughput of transport equipment grew by 8.9% thanks to growth in the throughput of new cars (+12.6%) to 2.67 million units. In addition to transport equipment, 7 million tons of unaccompanied cargo (excluding containers) was shipped on RoRo vessels (-1.4%). The portion of this cargo related to Ireland grew by 18.5%, while traffic to and from the UK fell (-3.8%).
In the first nine months, 15,316 seagoing vessels called at Port of Antwerp-Bruges, which is a decrease by 3.5%. The total gross tonnage of these vessels grew by 4.4% to 496.3 million GT.
On an annual basis, seagoing and inland vessels make over 300,000 movements in the port. These are ships arriving, departing, and moving within the port, or just passing through. Thanks to an extensive network of radars and cameras, Port of Antwerp-Bruges can continuously monitor these ship movements, thereby closely monitoring shipping and controlling the waterways and berths efficiently and safely.
Latest News
(Posted on 07/12/23)
US Port owners should start immediate planning to take advantage of the $3bn available in grants as... Read more
(Posted on 07/12/23)
The Vancouver Fraser Port Authority's board of directors has announced that it has appointed Peter... Read more
(Posted on 03/12/23)
In the presence of Kassym-Jomart Tokayev, President of the Republic of Kazakhstan, AD Ports Group, a... Read more
(Posted on 03/12/23)
Lhyfe, a global pioneer in the production of renewable green hydrogen for transportation and industrial... Read more
(Posted on 26/11/23)
A 194 million euro investment in North Sea Port will secure large-scale CO2 reduction by the largest... Read more
(Posted on 17/11/23)
The Central Association of German Seaport Operators (ZDS) has called for a decisive German port policy... Read more
(Posted on 13/11/23)
A groundbreaking feasibility study has highlighted the potential for using clean ammonia to refuel ships... Read more
(Posted on 05/11/23)
IAPH has announced the ratification by the IAPH Council of the new IAPH Board. The Board is formed by... Read more
(Posted on 05/11/23)
CN has announced that it acquired from Genesee & Wyoming Inc., a stake in the Cape Breton &... Read more
(Posted on 31/10/23)
Due to continued very high inflation, the Hamburg Port Authority (HPA) will raise port fees by an average... Read more