CCS opens first Portuguese office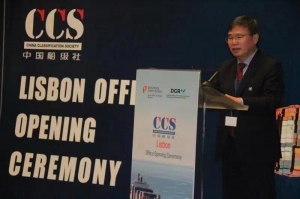 (Posted on 26/10/22)
China Classification Society (CCS) is expanding its European operations after staging the official opening of its first office in Portugal.
CCS is headquartered in Beijing and is a full member of the International Association of Classification Societies (IACS). Its serviced fleet numbers more than 33,000 vessels exceeding 182.3 million GT.
The office, based in the Portuguese capital Lisbon, will be CCS' 129th in the world and will engage directly with the Portuguese maritime administration, the Directorate-General for Natural Resources, Security and Maritime Services (DGRM), after it signed a new statutory authorisation agreement with CCS. The agreement sees CCS become a 'Recognized Organization' (RO), enabling CCS to approve drawings, carry out surveys and certification for ships flying the Portuguese flag, as well as issue safety and pollution prevention certificates. CCS now holds 60 authorisations from shipping nations or regions to perform statutory surveys.
Speaking at the opening ceremony, attended by more thang 40 guests, Zhao Bentang, the Chinese Ambassador to Portugal, said that as well as offering the best technical support and survey services, the new branch would work to strengthen communication and co-operation between the two nations in areas such as environmental protection and transportation security.
Jose Maria Costa, Portugal's Secretary of State for Maritime Affairs, told the opening ceremony that the opening of CCS' Lisbon office would enhance Portugal's competitiveness in the maritime world.
He said Portugal welcomed CCS and hoped it and the nation's maritime community would work together to face the challenges of saving energy and reducing emissions. He added: "The growing of Portuguese fleet is the priority of government."
Wang Baochun, the general manager of CCS Athens branch, which will be supporting the Portugal operation alongside CCS' head office in Beijing, said the Lisbon office will be responsible for all maritime services in Portugal, covering the ports of Sines, Setubal, Lisbon and Porto.
The opening ceremony was attended by the General Assembly of European International Shipowners' Association of Portugal, Pedro Rebelo de Sousa and the Manager of CCS' Lisbon office, Mr Huang Liang along with other guests.
CCS provides classification services to ships, offshore installations and related industrial products by furnishing world-leading technical rules and standards. CCS also provides statutory surveys, verification, certification and accreditation and other services in accordance with international conventions, regulations and the related rules and regulations of the authorizing flag states or regions.
Latest News
(Posted on 27/01/23)
ClassNK has issued an Approval in Principle (AiP) for a large ammonia fuelled 210,000 DWT bulk carrier... Read more
(Posted on 27/01/23)
Investors in middle aged dry bulk tonnage may be cheered by the impact of sustained higher recycled... Read more
(Posted on 27/01/23)
As one of the most important strategic maritime passages in the world, linking the Indian and Pacific... Read more
(Posted on 23/01/23)
OSM Maritime Group and Thome Group have agreed to a merger of the two companies. By joining forces,... Read more
(Posted on 23/01/23)
In a pivotal move aimed at further strengthening The Swedish Club's long-term position in the... Read more
(Posted on 16/01/23)
International crewing expert Danica Crewing Specialists now has a presence in Mumbai, boosting its recruitment... Read more
(Posted on 10/01/23)
Bahamas-based ship-management group Campbell Shipping has extended its relationship with Inmarsat, a... Read more
(Posted on 10/01/23)
AAL's scheduled monthly 'Asia to Australia West Coast Liner Service' (AUWC) recently... Read more
(Posted on 10/01/23)
Tindall Riley & Co Ltd./ the Managers of Britannia P&I announce that on 5 January 2023 it acquired... Read more
(Posted on 04/01/23)
The Swedish Club has welcomed in the New Year, when it formally greeted its incoming Managing Director... Read more