Bulker is first ship for RAK's DUKC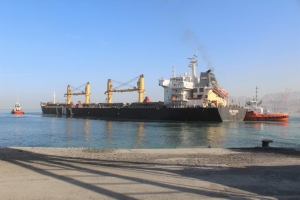 (Posted on 14/01/20)
The MV LMZ Phoebe has sailed from Saqr Port berth 10 with a draft of 12.78M. The vessel is the first to utilise the newly installed Dynamic Underkeel Clearance System (DUKC) provided by Australia based OMC International.
Saqr Port and Free Zone's huge annual cargo-handling capacity, coupled with its ability to berth the world's largest cargo ships, makes it a key gateway in the supply chain for the majority of construction projects in the Middle East Region.
RAK Ports commissioned the Dynamic Under Keel Clearance System for Saqr Port, which became live on January 1st, 2020. The system will allow vessels to load more cargo and take advantage of enhanced tidal windows, thereby loading deeper and allowing more time on the berth.
DUKC optimises the amount of cargo that any vessel can load by accurately determining the maximum safe sailing draft for that vessel, given the conditions on the day.
This is achieved by digitally replicating the port with DUKC. The DUKC incorporates detailed modelling of the shipping operations, numerical analysis of ship motions, hydrodynamic models, channel survey data, and the assimilation of real-time and forecast environmental conditions.
DUKC has safely facilitated 170,000+ transits for 120 ports, terminal and waterways, including the world's largest bulk export ports. With more than 640 full scale ship measurements, is the most comprehensively validated UKC management system available.
OMC's proven, world-leading DUKC technology provides a consistent scientific approach to UKC and has been safely operating in ports and waterways around the world for more than 25 years without incident. It ensures safety whilst maximising productivity – and has delivered more than $15 billion to exporters worldwide since the first system was installed in 1993.
Latest News
(Posted on 05/06/23)
Peel Ports Group is investing £28 million on a new facility at the Port of Liverpool in its biggest... Read more
(Posted on 02/06/23)
Vancouver Fraser Port Authority CEO Robin Silvester has announced that he will be leaving the port authority... Read more
(Posted on 31/05/23)
AD Ports Group , the Abu Dhabi based leading facilitator of global trade, logistics and industry, has... Read more
(Posted on 31/05/23)
The World Port Climate Action Program (WPCAP) will be extended with a new focus on shore power, new... Read more
(Posted on 30/05/23)
Ships sailing from the North Sea via the Westerschelde to unload dry bulk goods at OVET's quay in Vlissingen... Read more
(Posted on 23/05/23)
The problematic trend in the world economy is affecting Port of Hamburg throughput figures. As in other... Read more
(Posted on 23/05/23)
A senior delegation from United Arab Emirates (UAE) visited Karachi and met with H.E. Faisal Sabzwari... Read more
(Posted on 16/05/23)
Two new electric harbour cranes, representing an £8.6 million investment, are the latest arrivals... Read more
(Posted on 14/05/23)
At a ceremony held during the transport logistic trade fair in Munich, Algis Latakas, General Director... Read more
(Posted on 08/05/23)
Associated British Ports (ABP's) Port of Ipswich, the UK's leading grain export port, has... Read more