Arriva Shipping continues fleet renewal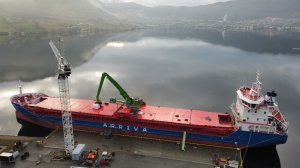 (Posted on 21/06/23)
The Jarle Matre-controlled company, Norway based Arriva Shipping, has agreed with the Chinese shipyard Dayang Offshore Equipment Co. Ltd. to construct one 8,500 dwt dry cargo vessel to be delivered in the first half of 2025. This will be a sister vessel of the company`s MV "Nor Viking", delivered in 2022, with improvements and upgrades customized for these vessels' trade and markets.
"Long-term investment with a strong focus on reducing our carbon footprint is behind this investment. With MV "Nor Viking," we achieve a 40% emission reduction, and the new vessel will have an equal or more significant reduction. We choose the most accessible and environmentally friendly technology commercially available by building a new battery hybrid vessel", informs CEO & Partner Sindre Matre.
A substantial proportion of the investment and deliveries for this vessel, including design and building supervision, will be from Norwegian and European suppliers.
"Through this investment, Arriva Shipping aims to offer our customers even better logistical solutions with a greener footprint on competitive terms", Matre says.
Arriva Shipping was founded in 1972 by Johannes Matre as a family-owned shipping company. Today the company is located with a head office in Ølensvåg and branch offices in Stavanger and Gdansk.
The short sea shipping company offers Norwegian and European industrial and entrepreneurial businesses flexible and reliable maritime transport services.
Arriva Shipping owns and operates in total nine self-discharging dry cargo vessels ranging from 2,000 to 8,000 deadweight tons. The company also uses hired tonnage, from 5-10 vessels, either on T/C or on a commission basis. The vessels operate mainly in Northern Europe.
The group has about 180 employees and had a turnover of MNOK 562 in 2022. Total freight volume amounted to approximately 4.6 million tons of bulk materials in 2022, with the vessels making 1,051 voyages to 15 different countries.
Latest News
(Posted on 07/12/23)
ClassNK has issued Approvals in Principle (AiPs) for four cutting-edge ship designs developed by Marine... Read more
(Posted on 07/12/23)
A smartship partnership bringing together ship management company Laskaridis Shipping, digital technology... Read more
(Posted on 07/12/23)
ABB has launched a new digital tool allowing shipowners, operators and designers to estimate the emission... Read more
(Posted on 03/12/23)
The Dry Bulk and LNG segments have borne the brunt of restricted transits, particularly due to their... Read more
(Posted on 03/12/23)
Columbia Shipmanagement (CSM) is set to further boost operational efficiency on its vessels, as crew... Read more
(Posted on 26/11/23)
Shi.E.L.D. Services has selected Spinergie as its preferred digitized solution provider to monitor and... Read more
(Posted on 26/11/23)
Thousands of cadets and trainees in India will benefit from in-depth wellness training and support thanks... Read more
(Posted on 17/11/23)
As shipping continues its journey to decarbonisation, INTERCARGO will host a special forum in Athens... Read more
(Posted on 13/11/23)
INTERCARGO was deeply saddened and concerned to hear of the reported appalling missile attack on the... Read more
(Posted on 13/11/23)
A new-look Wellness at Sea Awareness Campaign for seafarers, their families and shore staff that &ldquo... Read more