Arab sea ports focus on post-COVID-19 challenges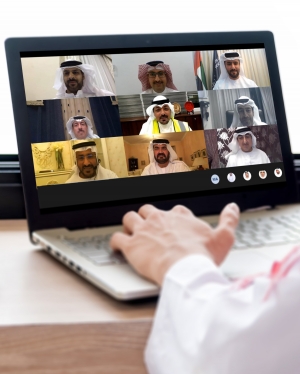 (Posted on 22/05/20)
Abu Dhabi Ports has held a virtual roundtable workshop with port operators from across the Arabian Gulf, to tease out shared experiences, challenges faced and best practices when dealing with COVID-19.
Hosted by video conference, and held in cooperation with the Arab Sea Ports Federation (ASPF) Regional Office based in Abu Dhabi, the agenda included presentations from Ports and Maritime Affairs – Bahrain, Mawani – Saudi Ports Authority, Kuwait Port Authority, Port of Salalah , as well as the port operators of Fujairah, Dubai and Sharjah and who all touched upon shared experiences relating to business continuity, health and safety, performance, and sea operations.
In a wide-ranging discussion, the port operators agreed on standardised sterilisation procedures when receiving vessels arriving from affected countries, preparedness to meet the challenges of COVID-19, and the measures and solutions required to create a post COVID-19 business environment.
The workshop was conducted in the presence of H.H. Sheikh Yousif Abdullah Al Subah, General Manager of Kuwait Port Authority and President of the Arab Sea Ports Federation (ASPF), who emphasised the necessity of having continuous discussions and coordination among ASPF members especially in times of difficulty: "Maritime trade serves as a vital lifeline for the entire global economy. Our meeting today reminds all those within our sector that we must not only commit to delivering business continuity and upholding the health and safety of our seafarers, but we must endeavour to take a flexible and open approach towards future plans relevant to the situation.
"Forums that have the scope to facilitate experiential knowledge sharing and support quality operational improvements ultimately contribute to boosting intra-regional and international trade. We are confident that we have unlocked measures to ensure our industry is well positioned to take the correct course of action to overcome this emergency," he added after the conclusion of the workshop.
Captain Mohamad Juma Al Shamisi, Group CEO, Abu Dhabi Ports and Vice Chairman of the Arab Sea Ports Federation, said: "The coming together of port operators from the region with the support of the Arab Sea Ports Federation embodies our region's spirit of unity and cooperation in responding and acting to the pandemic.
"Navigating our maritime and logistics industries into a post-COVID-19 recovery phase requires a robust regional and international effort in underscoring our resources and planning and preparing for future growth.
"Although the crisis has produced a profound impact on our lives, economies and societies, implementing agile business continuity procedures in our ports has mitigated potential operational losses and has left us well placed to recover quickly."
Expressing his gratitude to Abu Dhabi Ports for organising and preparing the workshop, Abdulla Al Muharrami, Head of the Regional Office of Arab Sea Ports Federation - UAE, stated: "Abu Dhabi Ports has always been a fervent supporter of efforts to collaborate and activate the role of our regional office.
"We can take great pride in the success of Arab and Arabian Gulf port operators in sustaining business continuity in the face of unprecedented challenges.
"Our meeting today has borne fruit by allowing us to formulate a clear vision on the mechanisms required to overcome the crisis and providing a roadmap for growth in the post-pandemic era."
Representing Abu Dhabi Ports, Captain Maktoum Al Houqani, Chief Corporate Authority Officer said: "Abu Dhabi Ports proudly joins hands with the region's maritime operators in sharing knowledge on the best international practices that will enable us all to speedily overcome the challenges presented by COVID-19."
Latest News
(Posted on 26/11/23)
A 194 million euro investment in North Sea Port will secure large-scale CO2 reduction by the largest... Read more
(Posted on 17/11/23)
The Central Association of German Seaport Operators (ZDS) has called for a decisive German port policy... Read more
(Posted on 13/11/23)
A groundbreaking feasibility study has highlighted the potential for using clean ammonia to refuel ships... Read more
(Posted on 05/11/23)
IAPH has announced the ratification by the IAPH Council of the new IAPH Board. The Board is formed by... Read more
(Posted on 05/11/23)
CN has announced that it acquired from Genesee & Wyoming Inc., a stake in the Cape Breton &... Read more
(Posted on 31/10/23)
Due to continued very high inflation, the Hamburg Port Authority (HPA) will raise port fees by an average... Read more
(Posted on 31/10/23)
The UK's leading ports group, Associated British Ports (ABP), has appointed Jeff Gibb as Lead... Read more
(Posted on 26/10/23)
In the first nine months of 2023, there was 6% less throughput in the port of Rotterdam: 329.9 million... Read more
(Posted on 26/10/23)
After nine months, the total throughput of Port of Antwerp-Bruges was 204.4 million tonnes, a drop of... Read more
(Posted on 19/10/23)
LOGISTEC Corporation have announced that it has entered into an arrangement agreement with 1443373... Read more