Antwerp fertilizer volumes recover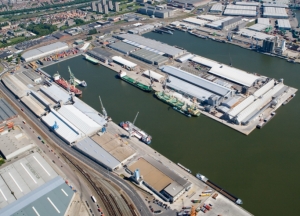 (Posted on 29/04/19)
Troughput of fertilisers at the Port of Antwerp has made a strong recovery in March, with the best monthly figures for the commodity since February 2011. This was despite overall volumes for bulk cargoes, including fertilizers being down for the full first quarter of 2019.
During the past quarter, the total maritime cargo turnover of Port of Antwerp fell by 3%, bringing the situation back to normal following the record figures of the first quarter in 2018. As the quarter unfolded, the total maritime cargo turnover again showed an upward trend. This trend is expected to continue in the coming months.
Total dry bulk transhipment decreased in the period by 8.8% as a result of the lower troughput of ore (-22.9%), coal (-16.5%), scrap (-10.2%) and fertilisers (-2.2%). Troughput of sand and gravel was up 6%. Troughput of fertilisers made a strong recovery in March, with the best month troughput since February 2011.
Dry bulk is traditionally characterised by high volatility, with various commodities having highly varying characteristics.
Conventional breakbulk did well in the first quarter of 2019, but moderately well compared to the exceptional first quarter of 2018, driven by the build-up of steel stocks in anticipation of US import levies. As a result, iron and steel transhipment remained 5% below last year's level.
RoRo transhipment was up 3.2%. Despite the decline in the number of rolling stock units, the number of tonnes went up thanks to the average weight per vehicle, especially in the utility vehicle category.
Container traffic continues to grow, with March 2019 as the strongest month ever in terms of containers.
Liquid bulk recorded a decline of 8.6% in the first quarter. After two weaker months (-12.4%), March showed a marked recovery, albeit less pronounced for petroleum derivatives, the largest segment within liquid bulk. A mild winter in 2019 versus a colder one in 2019 has an impact on the transhipment of petroleum derivatives. Also the slowdown in growth of the EU economy had implications for production volumes and energy demand, as did the evolution of crude oil prices.
Of particular note was the recovery in the transhipment of petroleum and chemicals. After three months, crude oil transhipment remains unchanged with 0.1%. Chemicals remain virtually unchanged (-0.6%) and saw a nice recovery in March following a sharp decrease in January and February.
During the past three months, 3,519 seagoing vessels (-0.3%) called at Antwerp. The gross tonnage of these ships decreased by 0.2% to 101,539, 585 GT.
Annnick De Ridder, alderman for the Port, concluded: These figures confirm the role of Port of Antwerp as one of the main economic pillars of the country and as a major employer. To secure the future prosperity of our port, we urge Flanders to proceed soon with the approval of the draft preference decision on container handling capacity."
Latest News
(Posted on 24/03/23)
LOGISTEC Corporation, a leading marine and environmental services provider, has announced its financial... Read more
(Posted on 24/03/23)
Terence Bowles, President and CEO of the St. Lawrence Seaway Management Corporation (SLSMC), and Adam... Read more
(Posted on 20/03/23)
Abu Dhabi based AD Ports Group, the leading facilitator of global trade, logistics, and industry, has... Read more
(Posted on 20/03/23)
Grain handling at the Port of Immingham is increasing thanks to the new opportunities presented by investment... Read more
(Posted on 07/03/23)
Marcor Stevedoring has signed a contract adding Liebherr's largest and most powerful mobile harbour... Read more
(Posted on 07/03/23)
AD Ports Group, an Abu Dhabi based leading facilitator of global trade, logistics, and industry, and... Read more
(Posted on 02/03/23)
LOGISTEC Stevedoring Inc., a subsidiary of LOGISTEC Corporation, a leading North American marine and... Read more
(Posted on 28/02/23)
End-of-year figures for total traffic in the Spanish Port of Bilbao stand at 32.7 million tonnes, up... Read more
(Posted on 24/02/23)
The Port of Sept-Îles and LOGISTEC Arrimage Inc. have announced that they have reached the impressive... Read more
(Posted on 24/02/23)
The war in Ukraine led to unprecedented changes in goods flows last year. At 467.4 million tonnes, total... Read more