Amsterdam's record transhipment year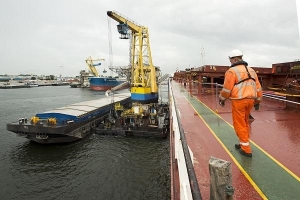 (Posted on 27/01/20)
The Port of Amsterdam set a new transhipment record in 2019 with transhipment totalling 86.9 million tonnes, compared to 82.3 million tonnes in 2018. This represents a 6% increase. Together with the other ports in the North Sea Canal Area, total transhipment reached 105 million tonnes in 2019, compared to 101.8 million tonnes in the previous year.
Transhipment in IJmuiden fell by 7.9% to 17.2 million tonnes, while Beverwijk and Zaanstad saw transhipment stabilise at 0.7 million tonnes and 0.2 million tonnes, respectively.
The record set in the port of Amsterdam in the previous year is primarily attributable to an 18% increase in the transhipment of energy products, such as coal, to 15.5 million tonnes, compared to 13.1 million tonnes in 2018. The increase in coal transhipment can be attributed to market conditions, which led to strong growth in exports to non-traditional markets such as Asia and the Black Sea region. This growth is not expected to be structural. The closure of the Amsterdam-based Hemweg power plant 8 in December resulted in the cancellation of a large coal transaction. The transhipment of oil products also rose in 2019 to 50 million tonnes, compared to 47.4 million in 2018. This increase was caused by favourable conditions in the petrol market.
Other dry bulk also increased by 6% - a substantial growth - to 33.6 million tonnes, compared to 31.6 million tonnes in 2018. Container transhipment also increased by 12% and transhipment in Ro-Ro rose by 17%. Transhipment of chemical products and construction materials rose by 3.4% and 2.4%, respectively.
These records were also offset by decreases. The agri cargo flow fell in the previous year by 5% to 7.9 million tonnes and general cargo fell by 35% compared to 2018.
Imports in the port of Amsterdam increased by 5.7% in the previous year to 53.2 million tonnes. Exports grew by 5.5% to 33.6 million tonnes.
A total of 20 hectares of land was leased out in 2019, compared to 43 hectares in 2018. Large parcels of land were leased out to Granuband and the 5.7-hectare distribution centre at the Conakryweg. Port of Amsterdam also purchased a 6-hectare lot in HoogTij in 2019, after having purchased 10 hectares in 2016.
Latest News
(Posted on 26/11/23)
A 194 million euro investment in North Sea Port will secure large-scale CO2 reduction by the largest... Read more
(Posted on 17/11/23)
The Central Association of German Seaport Operators (ZDS) has called for a decisive German port policy... Read more
(Posted on 13/11/23)
A groundbreaking feasibility study has highlighted the potential for using clean ammonia to refuel ships... Read more
(Posted on 05/11/23)
IAPH has announced the ratification by the IAPH Council of the new IAPH Board. The Board is formed by... Read more
(Posted on 05/11/23)
CN has announced that it acquired from Genesee & Wyoming Inc., a stake in the Cape Breton &... Read more
(Posted on 31/10/23)
Due to continued very high inflation, the Hamburg Port Authority (HPA) will raise port fees by an average... Read more
(Posted on 31/10/23)
The UK's leading ports group, Associated British Ports (ABP), has appointed Jeff Gibb as Lead... Read more
(Posted on 26/10/23)
In the first nine months of 2023, there was 6% less throughput in the port of Rotterdam: 329.9 million... Read more
(Posted on 26/10/23)
After nine months, the total throughput of Port of Antwerp-Bruges was 204.4 million tonnes, a drop of... Read more
(Posted on 19/10/23)
LOGISTEC Corporation have announced that it has entered into an arrangement agreement with 1443373... Read more