AiP for Methanol Superstorage solution on existing ships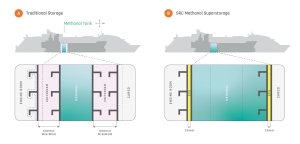 (Posted on 06/10/23)
A new and space efficient retrofit methanol storage solution from SRC Group has received Approval in Principle from Lloyd's Register, signifying that no major conceptual issues have been identified as standing in the way of its securing classification approval and regulatory compliance.
Methanol Superstorage offers the potential for ships with years of service ahead to be considered for transition to a marine fuel established as a frontrunner for meeting IMO targets to cut greenhouse gas emissions from ships by at least 20% by 2030 and 70% by 2040 (against a base year of 2008). Other technologies, such as hydrogen fuel and carbon capture, will take some years to mature before they can help meet IMO's net-zero target for around 2050.
Clarksons reported 14% of tonnage on order as methanol-capable earlier this year, compared to a 22% share for liquefied natural gas. The analyst has estimated that 1,200 ships could be powered by methanol by 2030.
However, while renewably-sourced methanol fits the net-zero framework, and is fairly easy to store and handle, it takes twice as much to generate the same energy as HFO. On board ship, this is a major storage issue, especially because low flashpoint fuel tanks conventionally require cofferdams.
Although space penalties can be addressed in newbuild ship design, even the youngest existing ships were not built with retrofitting methanol in mind. Methanol Superstorage avoids cofferdams by constructing tank walls using Sandwich Plate System Technology, in a solution boosting volume by up to 85%. The extraordinary gain can be retrofitted with minimal impact on the general arrangement.
"Due to long-established use in other industries, availability and performance, methanol is the alternative marine fuel offering the strongest potential to reduce ship GHGs at pace," said Hannes Lilp, CEO, SRC Group. "Methanol Superstorage reinvents methanol storage using the proven SPS Technology system. Instead of a cofferdam which extends – at least - to 600mm, the solution uses a 25mm thick SPS barrier to protect the tank from fire and as a triple barrier against leakage."
Engineering, Procurement, Construction and Installation (EPCI) service provider SRC Group, whose experience in complex maritime and offshore refits extends across over 5,000 projects, developed Methanol Superstorage to ensure that existing ships play a full part in energy transition, he said. AiP for its supporting design documents opened the way for wider scrutiny of a concept which, subject to statutory approval, would be decisive in making methanol a mainstream fuel for existing ships.
The SPS Technology Sandwich Plate System is a permanent, A60 fire rating certified structural composite, used in maritime and offshore applications for over two decades and approved by all major IACS class societies across a range of applications.
AiP from LR relates specifically to ships outlined in Part G of SOLAS Ch. II-1. SRC would deliver EPCI services, fully integrating the new solution "from the bunkering station to the high-pressure pump," said Lilp.
Founded in 2001, SRC is a multi-regional company with 22 years of experience in managing marine & offshore projects that require tailored solutions and short lead times.
Latest News
(Posted on 07/12/23)
ClassNK has issued Approvals in Principle (AiPs) for four cutting-edge ship designs developed by Marine... Read more
(Posted on 07/12/23)
A smartship partnership bringing together ship management company Laskaridis Shipping, digital technology... Read more
(Posted on 07/12/23)
ABB has launched a new digital tool allowing shipowners, operators and designers to estimate the emission... Read more
(Posted on 03/12/23)
The Dry Bulk and LNG segments have borne the brunt of restricted transits, particularly due to their... Read more
(Posted on 03/12/23)
Columbia Shipmanagement (CSM) is set to further boost operational efficiency on its vessels, as crew... Read more
(Posted on 26/11/23)
Shi.E.L.D. Services has selected Spinergie as its preferred digitized solution provider to monitor and... Read more
(Posted on 26/11/23)
Thousands of cadets and trainees in India will benefit from in-depth wellness training and support thanks... Read more
(Posted on 17/11/23)
As shipping continues its journey to decarbonisation, INTERCARGO will host a special forum in Athens... Read more
(Posted on 13/11/23)
INTERCARGO was deeply saddened and concerned to hear of the reported appalling missile attack on the... Read more
(Posted on 13/11/23)
A new-look Wellness at Sea Awareness Campaign for seafarers, their families and shore staff that &ldquo... Read more