Agreement for sea state monitoring and oil spill detection solutions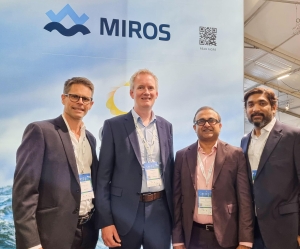 (Posted on 10/07/23)
Leading maritime systems and services provider Elcome International LLC has signed an exclusive sales and service agreement with Miros AS, the Norway-headquartered wave, current and oil spill monitoring specialist.
The partnership expands the distribution of Miros' comprehensive range of sea state sensor and measurement solutions to Gulf Cooperation Council (GCC) countries, namely UAE, Saudi Arabia, Oman, Kuwait, Bahrain, and Qatar.
Jonas Rostad, Chief Commercial Officer, Miros, said: "Miros has been a trusted provider of reliable ocean surface measurements to some of the world's largest ship owners, operators and offshore exploration and production companies, wind farms, and ports for about 40 years. As a technology-driven company with strong focus on digital innovation, we have found a like-minded partner in Elcome to help strengthen and support a growing customer base across the region."
Miros' portfolio of sea state measurement solutions provides accurate, real-time data for weather-sensitive operations at sea, as well as offering input to asset integrity systems and coastal monitoring. Its dry-mounted, radar-based sensors provide maritime and offshore operatives reliably with the sea state data they need to make informed decisions to improve fuel consumption, reduce carbon emissions, and mitigate any safety risks.
"We are delighted to partner with Miros," said Elcome International Managing Director Jimmy Grewal. "We share a number of synergies and values and look forward to increasing Miros' presence across the Middle East. The collaboration aims to improve the safety, performance, and efficiency of maritime operations in the region by monitoring the sea surface and making data available to all relevant stakeholders through an easy-to-access, cloud-integrated platform."
As part of the agreement, Elcome will not only partner with Miros but also provide distribution and installation services for its full product portfolio, which includes the company's industry leading oil spill detection (OSD) system. Elcome will be certified to commission and perform service and support on all Miros' products.
"With more than 250 Miros OSD systems delivered to oil companies, ship owners and coastal agencies around the world, Miros has established itself as a global leader in the provision of tools supporting oil spill response and surveillance operations," said Grewal.
The Miros OSD system has a unique ability to evaluate multiple indicators concurrently, only triggering alarms when the "right" combination is identified. These indicators encompass wave height and behaviour, surface characteristics, and drift, which are gathered and assessed using one or more marine X-band radars, AIS receiver, wind sensor, gyro compass, as well as infrared and daylight cameras.
Following data processing, Miros OSD transmits the appropriate signal to the user interface, which can display up to 24 hours of oil spill history and trajectory.
Latest News
(Posted on 07/12/23)
ClassNK has issued Approvals in Principle (AiPs) for four cutting-edge ship designs developed by Marine... Read more
(Posted on 07/12/23)
A smartship partnership bringing together ship management company Laskaridis Shipping, digital technology... Read more
(Posted on 07/12/23)
ABB has launched a new digital tool allowing shipowners, operators and designers to estimate the emission... Read more
(Posted on 03/12/23)
The Dry Bulk and LNG segments have borne the brunt of restricted transits, particularly due to their... Read more
(Posted on 03/12/23)
Columbia Shipmanagement (CSM) is set to further boost operational efficiency on its vessels, as crew... Read more
(Posted on 26/11/23)
Shi.E.L.D. Services has selected Spinergie as its preferred digitized solution provider to monitor and... Read more
(Posted on 26/11/23)
Thousands of cadets and trainees in India will benefit from in-depth wellness training and support thanks... Read more
(Posted on 17/11/23)
As shipping continues its journey to decarbonisation, INTERCARGO will host a special forum in Athens... Read more
(Posted on 13/11/23)
INTERCARGO was deeply saddened and concerned to hear of the reported appalling missile attack on the... Read more
(Posted on 13/11/23)
A new-look Wellness at Sea Awareness Campaign for seafarers, their families and shore staff that &ldquo... Read more