AD Ports MoU with Turkish private steel producer Tosyal?,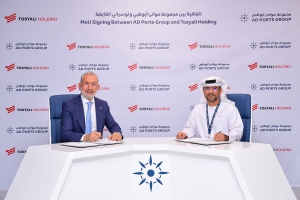 (Posted on 27/01/23)
AD Ports Group the leading facilitator of global trade, logistics, and industry, has signed a Memorandum of Understanding (MoU) with Tosyal?, one of Turkey's largest private steel producers, which has operations in three continents.
The MoU looks to establish the framework for AD Ports Group to collaborate with Tosyal? on a broad range of shipping, logistics, ports, and freight forwarding services, including potentially jointly investing in new port facilities to support its export operations.
With 30 manufacturing plants, including associates and joint ventures in Turkey, Algeria and Angola, Tosyal? has an annual manufacturing capacity of more than 10 million tonnes of steel, with significant volumes shipped to markets around the world. The company operates an organised industrial site at Iskenderun Port, Turkey, and is involved in the development of the new Erzin Port.
AD Ports Group expanded its shipping fleet and logistics operations in 2022 through a series of strategic acquisitions and joint ventures, positioning the company as an ideal partner for the fast-growing steel producer.
Executives are confident that the collaboration will contribute to the developing trade relationship between the UAE and Turkey, which saw non-oil trade between the two countries grow by 54 percent year-on-year in 2021 to AED 50.4 billion.
Capt. Mohamed Juma Al Shamisi, Managing Director and Group CEO, AD Ports Group, said: "AD Ports Group is pleased to sign this agreement with Tosyal?, which is the leading steel company in Turkey and the biggest steel producer in Africa. Our integrated business offering enables us to provide a full suite of shipping, logistics and port services for customers like Tosyal?, supported by innovative digital technology. We are grateful for the support and guidance of the UAE's leadership that enables us to pursue global agreements of this nature."
Fuat Tosyal?, Chairman of the Board of Directors of Tosyal? Holding Co., said: "As Tosyal? Holding, we aim to deploy shipping and logistics facilities that can bring our products to market quickly and efficiently, and contribute to the growth of our nation's exports. We believe we have found a strong partner in AD Ports Group, which matches our international ambitions and provides a wide range of services and expertise supported by a world-class fleet."
Established in 2006, AD Ports Group today serves as one of the world's leading facilitators of logistics, industry, and trade, as well as a bridge linking Abu Dhabi to the world. Listed on the Abu Dhabi Securities Exchange (ADX: ADPORTS), AD Ports Group's vertically integrated business approach has proven instrumental in driving the emirate's economic development over the past decade.
TOSYALI Holding creates economic and social value for 70 years with nearly 30 facilities and approximately 15,000 employees in 3 continents. TOSYALI is Turkey's global steel producer with an annual iron and steel production of nearly 6 million tons.
Latest News
(Posted on 31/03/23)
The Port of Long Beach and the Los Angeles/Orange Counties Building and Construction Trades Council... Read more
(Posted on 28/03/23)
Canadian Pacific has said that, on 14 April, 2023, it will exercise the authority granted by the U.S... Read more
(Posted on 24/03/23)
LOGISTEC Corporation, a leading marine and environmental services provider, has announced its financial... Read more
(Posted on 24/03/23)
Terence Bowles, President and CEO of the St. Lawrence Seaway Management Corporation (SLSMC), and Adam... Read more
(Posted on 20/03/23)
Abu Dhabi based AD Ports Group, the leading facilitator of global trade, logistics, and industry, has... Read more
(Posted on 20/03/23)
Grain handling at the Port of Immingham is increasing thanks to the new opportunities presented by investment... Read more
(Posted on 07/03/23)
Marcor Stevedoring has signed a contract adding Liebherr's largest and most powerful mobile harbour... Read more
(Posted on 07/03/23)
AD Ports Group, an Abu Dhabi based leading facilitator of global trade, logistics, and industry, and... Read more
(Posted on 02/03/23)
LOGISTEC Stevedoring Inc., a subsidiary of LOGISTEC Corporation, a leading North American marine and... Read more
(Posted on 28/02/23)
End-of-year figures for total traffic in the Spanish Port of Bilbao stand at 32.7 million tonnes, up... Read more