2020 results keep Trois-Rivières on course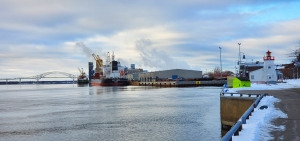 (Posted on 29/01/21)
In 2020, the Canadian Port of Trois-Rivières recorded a volume of goods handled totalling 3.3 million metric tonnes (MMT). Although this is down from the record year of 2019, it is in line with the average of the last five years and with the forecasts made by the Port of Trois-Rivières.
Thus, the 2.9 MMT of dry bulk traffic represented 85% of the total tonnage, liquid bulk with 300,000 metric tonnes, 10%, and general cargo with 170,000 metric tonnes, 5%. A total of 209 vessels docked at the Port.
As part of the 17 Canadian Port Authorities and active since 1882, the Port of Trois-Rivières is an important player in regional, national and international economic development for major industrial sectors such as the aluminium industry, forestry and agri-food.
"As we all know, this past year has been difficult for everyone, we have all had to adjust to new realities. I would like to highlight the exceptional work and adaptability of our partners: our stevedores: G3 Canada, Logistec and Groupe Somavrac, the longshoremen and all the workers at the Port, as well as our clients and many collaborators. Thanks to them, we have been able to face this challenging period while meeting our established forecasts and continuing the deployment of the On Course for 2030 development plan," said Gaétan Boivin, President and CEO of the Port of Trois-Rivières. With this plan, the Port of Trois Rivières' vision is to be "An innovative urban port, generating growth, at the heart of a competitive supply chain."
An important milestone in the On Course for 2030 plan was reached last October when Transport Canada confirmed financial assistance of $33.4 million, out of a total investment of nearly $130 million, for the construction of Terminal 21. The Minister of Foreign Affairs and Member of Parliament for Saint-Maurice-Champlain, the Honourable François-Philippe Champagne, made the official announcement. A flagship project of the On Course for 2030 development plan, this new terminal will increase by nearly 50% the Port's capacity, which is currently operating at full capacity, at a time when more and more companies are seeking to use its services to reach international markets. 716 metres of dock frontage and nearly 100,000 m of surface area will be added to the west of the existing infrastructure. Commissioning is scheduled for early 2024.
The partnership between the Ports of Trois-Rivières and Montreal also reached an important milestone in 2020 with the deployment of three projects that will improve the maritime operations of both ports: the implementation of a common extranet portal to manage vessel arrivals, the harmonization of practices and procedures, and the implementation of a common access card for workers and visitors.
Latest News
(Posted on 03/12/23)
In the presence of Kassym-Jomart Tokayev, President of the Republic of Kazakhstan, AD Ports Group, a... Read more
(Posted on 03/12/23)
Lhyfe, a global pioneer in the production of renewable green hydrogen for transportation and industrial... Read more
(Posted on 26/11/23)
A 194 million euro investment in North Sea Port will secure large-scale CO2 reduction by the largest... Read more
(Posted on 17/11/23)
The Central Association of German Seaport Operators (ZDS) has called for a decisive German port policy... Read more
(Posted on 13/11/23)
A groundbreaking feasibility study has highlighted the potential for using clean ammonia to refuel ships... Read more
(Posted on 05/11/23)
IAPH has announced the ratification by the IAPH Council of the new IAPH Board. The Board is formed by... Read more
(Posted on 05/11/23)
CN has announced that it acquired from Genesee & Wyoming Inc., a stake in the Cape Breton &... Read more
(Posted on 31/10/23)
Due to continued very high inflation, the Hamburg Port Authority (HPA) will raise port fees by an average... Read more
(Posted on 31/10/23)
The UK's leading ports group, Associated British Ports (ABP), has appointed Jeff Gibb as Lead... Read more
(Posted on 26/10/23)
In the first nine months of 2023, there was 6% less throughput in the port of Rotterdam: 329.9 million... Read more