WinGD issues NOL for Chevron's Taro Ultra Advanced 40 for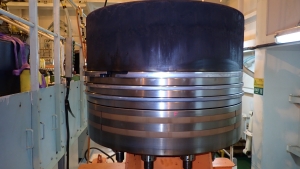 (Posted on 06/10/23)
Chevron Marine Products' Taro Ultra Advanced 40 oil has successfully passed NOL (No Objection Letter) requirements by engine manufacturer WinGD. This follows the earlier NOL award for Taro Ultra Advanced 40 from MAN Energy Solutions. This latest test validates the suitability of the oil for use in WinGD engines operating with liquid fuels containing sulphur in the range 0.00<1.50 % m/m, which includes Very Low Sulphur Fuel Oil (VLSFO). The test also approved the general usage of Taro Ultra Advanced 40 when burning Liquefied Natural Gas (LNG) in WinGD engines.
The field test was carried out on a WinGD 9X82 low speed engine while burning VLSFO. The engine condition at end of testing was very clean with low wear and deposit levels, and this good outcome resulted in the NOL being extended to include Gas General Usage by WinGD.
"We appreciate the ongoing collaboration with Chevron, and are always pleased to give our customers more good options to choose from when considering engine lubrication. WinGD continues to work closely with Chevron, and other lubricant developers, to develop innovative solutions addressing the future fuel mix to meet the anticipated needs of our engines, changing legislation and the market in general." said Frank Venter of WinGD.
"The successful testing of Taro Ultra Advanced 40 from two leading engine manufacturers, namely WinGD and MAN Energy Solutions, is a clear endorsement of the oil's ability to perform its core functions of lubrication, acid neutralization, and cleanliness well. We are implementing supply strategies to ensure Taro Ultra Advanced 40 is available where our customers need it. And as more ship operators take up high-performance 40 BN oils, we will expand our capabilities with a vision of having a global footprint. We are continuing the testing process to ensure the product is similarly effective on a range of engine types, including those in early development," explained Luc Verbeeke, Senior Staff Engineer, Chevron Marine Products.
Taro Ultra Advanced 40 is the latest addition to Chevron's existing range of Taro Ultra oils, including Taro Ultra 100 and Taro Ultra 140. Taro Ultra Advanced 40 is specifically designed to keep pistons clean at moderate BN and oil ash levels, eliminating the need to alternate with cylinder oils of higher and lower BN to help maintain cleanliness.
Latest News
(Posted on 07/12/23)
In an initiative set to be transformational for ship design while protecting the oceans from pollution... Read more
(Posted on 03/12/23)
Ship design, particularly the design of bulk carriers, presents particular challenges when it comes... Read more
(Posted on 26/11/23)
VIKING Life-Saving Equipment, a global leader in maritime safety solutions, is launching an innovative... Read more
(Posted on 26/11/23)
Damen's client Gerdes Green has received a subsidy from the German Government for the investment... Read more
(Posted on 17/11/23)
A first of its kind training course for the Middle East has been held to teach mariners about the basic... Read more
(Posted on 13/11/23)
Wärtsilä ANCS, part of technology group Wärtsilä, has delivered to Seaspan, a marine... Read more
(Posted on 31/10/23)
The flag raising ceremony for three new ASD Tugs has taken place in Gdansk, Poland. In the presence... Read more
(Posted on 26/10/23)
A new immersive crane simulator that can recreate high-risk scenarios without putting drivers or other... Read more
(Posted on 23/10/23)
Vesto Ropes, a global leader in innovative steel wire-rope solutions, has announced a strategic partnership... Read more
(Posted on 23/10/23)
Bedeschi S.p.a. has been awarded a contract for the design and supply of a new longitudinal storage... Read more