Voyage calculations made instant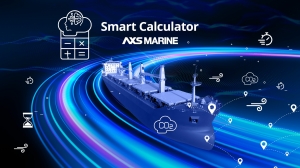 (Posted on 30/06/22)
AXSMarine, a pioneer and market leader in the provision of advanced solutions for shipping professionals, has recently released a new Smart Calculator to its AXSDry platform. The new tool allows users to run quick voyage calculations against multiple vessels.
AXSMarine's new calculation tool takes essential information for a voyage and returns its results simultaneously for each vessel in a simple grid. The users can input commodity type, quantity and tolerance, load and discharge ports & rates, including bunkering operations, waiting times and DAs, vessel constants, bunker prices, as well as time charter or freight rates.
The Smart Calculator returns results for multiple vessels simultaneously, provided they are suitable for the set parameters. In addition to the time charter equivalent (TCE) and freight rate, it also provides an estimate of the total CO2 emissions for each vessel for the specific voyage, as well as Energy Efficiency Operating Indicator (EEOI) and Annual Efficiency Ratio (AER) values.
"Efficiency has always been a key factor in shipping, but in the modern age of digitalization it's even more vital", said Steve Fletcher, CCO at AXSMarine. "Our new Smart Calculator takes the essentials from our Voyage Calculator module and streamlines them inside Shiplist. All the calculations now take place within your main workspace, and you can rank how multiple vessels matching your laycan would perform in the same voyage.
The Smart Calculator also allows you to refine the results by recording owners' ideas for each vessel directly in the grid. The integration of our recent CO2 calculator within the Smart Calculator makes it quick and easy for users to assess the potential environmental impact of each vessel.", added Steve.
AXSMarine also plans to integrate its new Smart Calculator in the AXSTanker platform. AXSTanker is an all-in-one chartering solution for competitive Wet Cargo ship brokers.
Latest News
(Posted on 03/12/23)
Ship design, particularly the design of bulk carriers, presents particular challenges when it comes... Read more
(Posted on 26/11/23)
VIKING Life-Saving Equipment, a global leader in maritime safety solutions, is launching an innovative... Read more
(Posted on 26/11/23)
Damen's client Gerdes Green has received a subsidy from the German Government for the investment... Read more
(Posted on 17/11/23)
A first of its kind training course for the Middle East has been held to teach mariners about the basic... Read more
(Posted on 13/11/23)
Wärtsilä ANCS, part of technology group Wärtsilä, has delivered to Seaspan, a marine... Read more
(Posted on 31/10/23)
The flag raising ceremony for three new ASD Tugs has taken place in Gdansk, Poland. In the presence... Read more
(Posted on 26/10/23)
A new immersive crane simulator that can recreate high-risk scenarios without putting drivers or other... Read more
(Posted on 23/10/23)
Vesto Ropes, a global leader in innovative steel wire-rope solutions, has announced a strategic partnership... Read more
(Posted on 23/10/23)
Bedeschi S.p.a. has been awarded a contract for the design and supply of a new longitudinal storage... Read more
(Posted on 18/10/23)
Rhenus Maritime Services (RMS) is adding a new coastal vessel to its fleet in the shape of the RMS Ruhrort... Read more