US Soy growers ask House Ag Committee to help protect crop insurance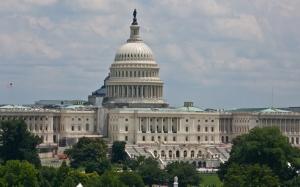 (Posted on 28/04/23)
Speaking on behalf of the American Soybean Association and his fellow soy growers, ASA President Daryl Cates, Columbia, Illinois, addressed the need for mitigating farmers' risks both in the field and beyond. Cates was invited to testify before the House Agriculture Committee's Subcommittee on General Farm Commodities, Risk Management, and Credit, where he offered soy producers' perspectives on the 2023 Farm Bill.
ASA shared soy's 2023 Farm Bill priorities in May of last year and has worked since to circulate those needs on the Hill and collaborate with other agriculture groups to assure farmers' priorities are considered in the next farm bill; farm bills are historically authorized for five years, with the 2018 Farm Bill now up for reauthorization.
Cates in his oral testimony said, "I have a simple message to share with you today: Soybean farmers need your help in the next farm bill."
While the message is simple, the concerns and solutions are not always. Cates asked for help with two priorities in the subcommittee's jurisdiction: 1). Protecting crop insurance and 2). Improving the Title I farm safety net for soybeans. Citing crop insurance as "the most effective and important component of the farm safety net for soybean farmers," Cates noted how crop insurance helps farmers like him manage risk and secure operating credit from their lenders—a layer of protection while crops are in the ground and one that ASA asks to remain unscathed by amendments.
The second ask—an additional layer of protection beyond the field—is a bit more complex: improving the Title I farm safety net to help it better align with realistic needs. Cates says a predictable, effective farm safety net is a must in the next farm bill.
Despite successes to enhance and diversify markets, China remains U.S. soy's #1 export market, with one in three rows of beans exported there. Said Cates, "During the height of the trade war with China in 2018, U.S. soy stopped flowing to the Chinese market in our peak export period that fall. Soybean prices dropped significantly, but we received no PLC benefits and little from the ARC program. USDA stepped in with ad hoc, temporary support to farmers.
If a trade war that shrunk soybean demand by over 30% hardly triggered the farm safety net provided in the current farm bill, it is difficult to envision a scenario that would provide meaningful assistance without significant improvements to the current reference price and program elements of ARC and PLC."
Another challenge raised in the hearing is the significant disparity in recent soybean planted acres compared to base acres, on which ARC and PLC benefits are provided. This difference impacts the accessibility and effectiveness of the farm safety net: In 2022, soybeans were planted nationally on 87.5 million acres. By comparison, soybean base totals 53.2 million acres. Over 30 million acres of soybeans were not protected by the soybean provisions of ARC and PLC in 2022.
ASA is pleased to offer testimony and looks forward to continuing to work with Congress as it drafts this critical legislation.
Latest News
(Posted on 26/09/23)
Vale has announced that it signed a MOU with the Port of Açu to study the development of a Mega... Read more
(Posted on 26/09/23)
The European Soy Monitor 2021 has been published, containing an overview of estimations on the use of... Read more
(Posted on 19/09/23)
BHP contributed $60 billion (AUD) in economic value to the Australian economy in the 2023 financial... Read more
(Posted on 19/09/23)
BHP contributed $60 billion (AUD) in economic value to the Australian economy in the 2023 financial... Read more
(Posted on 19/09/23)
Trafigura Group Pte Ltd. has announced an evolution of its executive team to further strengthen leadership... Read more
(Posted on 12/09/23)
The Food and Agricultural Organisation of the United Nations (FAO) forecast for global cereal production... Read more
(Posted on 08/09/23)
Rio Tinto has appointed Jérôme Pécresse to lead its Aluminium business, succeeding... Read more
(Posted on 04/09/23)
The Environmental Protection Agency (EPA) and the Army Corps in the USA have announced the final definition... Read more
(Posted on 28/08/23)
Despite the many and varied categories of cargo damage faced by shipowners transporting grain cargoes... Read more
(Posted on 28/08/23)
Rio Tinto and First Quantum Minerals have completed a transaction to form a joint venture that will... Read more