U.S. opposes Okonjo-Iweala as next WTO chief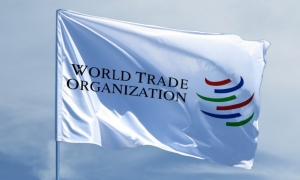 (Posted on 02/11/20)
The United States this week signalled its opposition to Nigeria's Ngozi Okonjo-Iweala to become the next director-general of the World Trade Organization, issuing a statement of support for the other candidate, Korean Trade Minister Yoo Myung-hee.
After weeks of consultations, WTO announced two finalists on Oct. 8 to replace former Director-General Roberto Azevêdo. The three WTO ambassadors (or "troika") charged with finding a successor declared at an Oct. 28 meeting in Geneva that the former Nigerian finance minister should be the next director-general as she had secured cross-regional backing from WTO-member countries.
"All of the delegations that expressed their views today expressed very strong support for the process, for the troika and for the outcome. Except for one," WTO spokesman Keith Rockwell told reporters, specifying that the exception was the United States.
During the final selection process, WTO-member countries are asked during confidential consultations to express their choice before a meeting is conducted to make the final selection. The decision traditionally is approved by consensus among the 164 WTO members. The WTO has scheduled a General Council meeting on Nov. 9 to make the decision, less than a week after the U.S. election.
"Minister Yoo is a bona fide trade expert who has distinguished herself during a 25-year career as a successful trade negotiator and trade policymaker," the Office of the U.S. Trade Representative (USTR) said in an Oct. 28 statement supporting Yoo. "This is a very difficult time for the WTO and international trade. There have been no multilateral tariff negotiations in 25 years, the dispute-settlement system has gotten out of control and too few members fulfill basic transparency obligations. The WTO is badly in need of major reform. It must be led by someone with real, hands-on experience in the field."
Throughout his presidency, President Trump and U.S. Trade Representative Robert Lighthizer have criticized the WTO's processes; the administration has blocked the appointment of new judges to the WTO appeals court and has threatened to withdraw from the organization altogether. The NGFA and 61 other U.S. agriculture stakeholders have urged the Trump administration to remain in the WTO, and in a Sept. 23 letter to Lighthizer, the groups emphasized support for efforts to reform WTO rules, noting that "improvement is needed" to hold WTO members accountable and improve the organizations' governance.
Latest News
(Posted on 08/02/23)
Tata Steel has established a Centre for Innovation in Mining and Mineral Beneficiation at the Indian... Read more
(Posted on 06/02/23)
The National Grain and Feed Association (NGFA) in the USA has outlined recommended actions for Congress... Read more
(Posted on 27/01/23)
Cargill has announced that it has completed the acquisition of Owensboro Grain Company, a fifth-generation... Read more
(Posted on 23/01/23)
BHP Xplor, an accelerator programme introduced by BHP in August 2022, has announced its first cohort... Read more
(Posted on 16/01/23)
Trafigura Group Ptd Ltd., a market leader in the global commodities industry, has made a public carbon... Read more
(Posted on 10/01/23)
Jace Hefner has joined the U.S. Grains Council (USGC) in its Washington, D.C., headquarters as the new... Read more
(Posted on 10/01/23)
Cargill has announced that Jamie Miller will step down as Chief Financial Officer to accept an opportunity... Read more
(Posted on 10/01/23)
Adbri Limited has announced that it has extended its cementitious materials supply arrangement with... Read more
(Posted on 04/01/23)
Khalifa Economic Zones Abu Dhabi – KEZAD Group, the integrated trade, logistics, and industrial... Read more
(Posted on 23/12/22)
Australian agribusiness GrainCorp is co-leading a $12 million investment round into rural connectivity... Read more