U.S. and Japan reach tariff agreement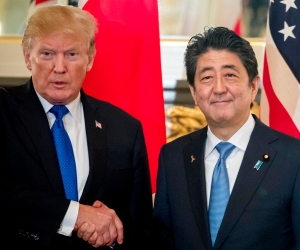 (Posted on 03/10/19)
The United States and Japan has announced a limited trade deal that includes Japan opening its markets to more than $7 billion in U.S. agricultural products.
President Donald Trump and Japanese Prime Minister Shinz? Abe announced the agreement during a meeting on the sidelines of the United Nations General Assembly meeting in New York.
"Japanese tariffs will now be significantly lower or eliminated completely on beef, pork, wheat, cheese, corn, wine and so much more," Trump told reporters in New York.
Trump notified Congress last week that the U.S. and Japan were prepared to enter a limited agreement that would lower some tariffs and set terms of digital trade.
Under the agreement announced this week, Japan will eliminate or reduce tariffs on an additional $7.2 billion of U.S. food and agricultural products, according to a fact sheet issued by the White House. The document said out of the $14.1 billion in U.S. food and agricultural products imported by Japan in 2018, $5.2 billion were already duty free. The fact sheet did not list tariff figures for specific U.S. agricultural commodities; but they are believed to be equivalent — with the exception of rice and a portion of dairy products — to those granted by Japan to other countries under the former Trans Pacific Partnership trade agreement from which President Trump withdrew the United States during the first year of his presidency.
"Once this agreement is implemented, over 90 percent of U.S. food and agricultural products imported into Japan will either be duty free or receive preferential tariff access," the White House noted.
Once implemented, Japan agreed it will reduce tariffs in varying stages for beef and pork. Tariffs will be eliminated immediately on over $1.3 billion worth of several types of produce and grain sorghum.
Japan's effective tariff on imported U.S. wheat will drop to the same level as Canadian and Australian wheat imports. This is particularly important considering the Comprehensive and Progressive Trans-Pacific Partnership (CPTPP) agreement – the successor to TPP entered into between Australia, Brunei, Chile, Japan, Malaysia, Mexico, New Zealand, Peru, Singapore and Vietnam – would make U.S. wheat imports less cost-competitive compared to other CPTPP countries without a separate U.S.-Japan agreement. In addition to matching the Canadian and Australian tariff schedule for U.S. wheat, Japan agreed to open country specific quotas for U.S. wheat and wheat product imports; but those specific numbers were not contained in the materials issued by the White House this week.
According to U.S. Wheat Associates, U.S. wheat represents about 50 percent of all the wheat Japan imports each year, currently valued at more than $600 million annually.
A Trump administration official noted during a Sept. 25 conference call: "When this agreement enters into force, we will immediately match and have the same tariff treatment as is the case with Canada, Australia, New Zealand, etc."
In a press statement, U.S. Secretary of Agriculture Sonny Perdue said the agreement "helps level the playing field" between the U.S. and Japan and "is a particularly big win for our farmers and ranchers."
Latest News
(Posted on 03/12/23)
Rio Tinto and Giampaolo Group have completed a transaction to form the Matalco joint venture, combining... Read more
(Posted on 03/12/23)
Khalifa Economic Zones Abu Dhabi – KEZAD Group, the largest operator of integrated and purpose... Read more
(Posted on 26/11/23)
ADM, a leader in sustainable agriculture supply chains, has announced an important expansion of its... Read more
(Posted on 17/11/23)
Trafigura, a market leader in the global commodities industry, has agreed to invest in an all-in-one... Read more
(Posted on 17/11/23)
ADM and Marathon Petroleum Corp. have celebrated the opening of their joint venture soybean processing... Read more
(Posted on 13/11/23)
Former U.S. Grains Council (USGC) Director of Global Programmes Alejandra Castillo was named the successor... Read more
(Posted on 13/11/23)
Rio Tinto has completed the acquisition of PanAmerican Silver's stake in Agua de la Falda and... Read more
(Posted on 05/11/23)
Cargill has completed an expansion and modernization project at its integrated soybean crush and refined... Read more
(Posted on 31/10/23)
BHP has approved an investment of US$4.9 billion (C$6.4 billion) for stage two of the Jansen potash... Read more
(Posted on 31/10/23)
Rio Tinto and cable solution provider Prysmian are partnering to build a more sustainable North American... Read more