Two Siwertell road-mobile unloaders for US cement handler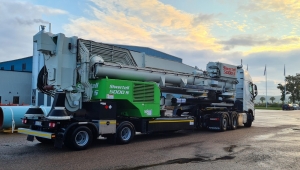 (Posted on 11/11/21)
Bruks Siwertell will deliver two new Siwertell road-mobile ship unloaders for dust-free cement handling operations in North America. Destined for an undisclosed owner, these new 5000 S units will join the company's other existing Siwertell technology. They will provide a flexible, environmentally friendly solution for unloading cement at planned future sites, and will enable better access to barges and port facilities.
"Siwertell ship unloaders are located across the world and have decades of proven, dedicated service," says Pedro Alfaro, Project Development Engineer, Bruks Siwertell. "Road-mobile units are extremely flexible in their ability to serve operators at multiple ports, and are robust and easy to operate. In fact, a single operative can unfold a road-mobile unloader in less than an hour, and then clear the quay in equal time once finished."
As with larger unloaders, Siwertell road-mobile units use screw conveyors that are fully enclosed, with a dust mitigation system, which limits any fugitive dust to an absolute minimum. They also ensure than no dry bulk material is lost through spillage. Road-mobile unloaders have a double-bellows discharge arrangement and can transfer material to waiting trucks or any other receiving system.
Both unloaders will have a rated cement handling capacity of 300t/h for vessels up to 5,000 dwt. They are the latest iteration of the 5000 S, and will have electric as opposed to diesel-drives, further reducing environmental impact. Other advanced features include technology for diagnostics and trouble-shooting.
The first unit will be delivered to the US Midwest in summer 2022, with commissioning scheduled for winter 2022, and the second unit, destined for the Southeast region, will be delivered in summer 2022, with commissioning by spring 2023.
Latest News
(Posted on 26/11/23)
VIKING Life-Saving Equipment, a global leader in maritime safety solutions, is launching an innovative... Read more
(Posted on 26/11/23)
Damen's client Gerdes Green has received a subsidy from the German Government for the investment... Read more
(Posted on 17/11/23)
A first of its kind training course for the Middle East has been held to teach mariners about the basic... Read more
(Posted on 13/11/23)
Wärtsilä ANCS, part of technology group Wärtsilä, has delivered to Seaspan, a marine... Read more
(Posted on 31/10/23)
The flag raising ceremony for three new ASD Tugs has taken place in Gdansk, Poland. In the presence... Read more
(Posted on 26/10/23)
A new immersive crane simulator that can recreate high-risk scenarios without putting drivers or other... Read more
(Posted on 23/10/23)
Vesto Ropes, a global leader in innovative steel wire-rope solutions, has announced a strategic partnership... Read more
(Posted on 23/10/23)
Bedeschi S.p.a. has been awarded a contract for the design and supply of a new longitudinal storage... Read more
(Posted on 18/10/23)
Rhenus Maritime Services (RMS) is adding a new coastal vessel to its fleet in the shape of the RMS Ruhrort... Read more
(Posted on 18/10/23)
Dualog, a leading maritime software provider, has introduced a major enhancement to the Dualog Drive... Read more