thyssenkrupp to build Cameroon cement plant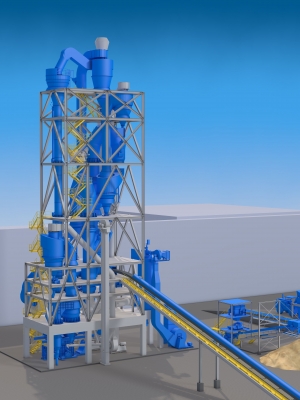 (Posted on 31/03/20)
thyssenkrupp is to fit the first cement plant with a system for the production of calcined clay
for the Dutch-based company Cimpor Global Holdings. The technology developed by
thyssenkrupp lowers CO2 emissions in cement production by up to 40 percent. It involves
replacing part of the cement clinker with calcined, i.e. thermally activated, clay. Cimpor
Global Holdings will use the technology, known as "polysius activated clay", on an
industrial scale at a new plant being built near the Cameroon sea port of Kribi. On
completion in fall 2021, the plant will save more than 120,000 tons of CO2 emissions every
An important building material, cement is produced by an energy-intensive process in
which large quantities of carbon dioxide are emitted. "At thyssenkrupp we are convinced
that CO2-neutral cement production is fundamentally possible and can be achieved in
several steps," says Pablo Hofelich, CEO of the Cement Technologies business unit. "We
are already very advanced in many areas on the technology side. We offer our customers
products that reduce environmental impact and at the same time reduce costs, making it
possible for example to significantly cut CO2 and nitrogen oxide emissions and reduce the
use of raw materials, water, or fossil fuels such as coal and gas."
Under the order, thyssenkrupp is carrying out engineering, procurement, construction and
commissioning of the new plant, which will produce 720 tons of activated clay per day. It is
the second calcined clay project of Cimpor Global Holdings.
CO2 is a natural constituent of limestone, the main component of cement. For each ton of
cement clinker produced, around 790 kilograms of process-related CO2 is emitted. Around
two thirds of this results from the limestone used, which releases CO2 in a chemical reaction
in the production process. At the same time the process requires large amounts of energy,
because for the production of cement clinker, limestone has to be heated with other
aggregates to temperatures of more than 1,400 degrees Celsius.
With polysius activated clay, thyssenkrupp has developed a technology that allows around
one third of the cement clinker to be replaced with activated clay. The clay is heated to
around 800 degrees Celsius – significantly less heat than is needed to produce clinker.
Thanks to the significant energy saving in the production of thermally activated clays and
the changed chemical composition, CO2 emissions per ton of cement can be cut by up to 40
Latest News
(Posted on 20/03/23)
Rio Tinto increased its spend with Australian suppliers to more than A$15.3 billion in 2022, as part... Read more
(Posted on 20/03/23)
Trafigura Group Pte Ltd., a market leader in the global commodities industry, has announced the closing... Read more
(Posted on 07/03/23)
Nexyst 360, an innovative grain transportation solution provider, has partnered with Nexxiot to digitalize... Read more
(Posted on 28/02/23)
Cargill has announced the appointments of Joanne Knight as Chief Financial Officer (CFO) and Philippa... Read more
(Posted on 24/02/23)
Trafigura, a market leader in the global commodities industry, has entered into a USD 500 million five... Read more
(Posted on 22/02/23)
British Steel has announced proposals to close its coke ovens as part of its drive to overcome global... Read more
(Posted on 20/02/23)
Global miner Rio Tinto and Japanese trader and business conglomerate Marubeni Corporation have agreed... Read more
(Posted on 20/02/23)
Trafigura, a market leader in the global commodities industry, and Ecobat, the global leader in battery... Read more
(Posted on 13/02/23)
Hydrogen is at the core of the green steel transition. Ensuring access to this scarce resource &ndash... Read more
(Posted on 08/02/23)
Tata Steel has established a Centre for Innovation in Mining and Mineral Beneficiation at the Indian... Read more