thyssenkrupp supplies iron ore project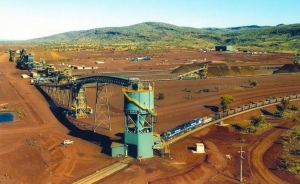 (Posted on 03/12/18)
Thyssenkrupp Industrial Solutions has been awarded one of the largest fabrication and construction projects the company has ever handled in Western Australia. Under the contract, thyssenkrupp will design, supply, construct and commission large-scale stockyard machines for the BHP South Flank iron ore project in the central Pilbara region of Western Australia. The contract is valued at approximately €150 million.
The BHP iron ore project is targeting first ore extraction in 2021. Generating roughly 80 million tonnes of output per year, it will fully replace production from the existing Yandi mine which is reaching the end of its economic life. The project is expected to create many opportunities for Western Australian suppliers.
Torsten Gerlach, CEO Mining Technologies at thyssenkrupp Industrial Solutions: "South Flank will be one of the largest iron ore operations worldwide. We look forward to contributing to this project by combining longstanding global expertise in the mining business with local experience. Our strong partnership with BHP extends globally, but the Pilbara region is a core area where we have provided material handling solutions for decades. With our field service teams we are supporting our customer on a daily basis."
thyssenkrupp will supply two stackers that deposit iron ore into stockyards, and a reclaimer for loading the ore onto trains for transport to Port Hedland. The machines will have a capacity of 20,000 tonnes per hour, making them the largest rail-mounted stackers and reclaimer in the world. The design of the machines incorporates the latest Australian design standard requirements and technology improvements centered on safe construction, operation and maintenance activities.
The Industrial Solutions business area of thyssenkrupp is a leading partner for the engineering, construction and service of industrial plants and systems. Based on more than 200 years of experience they supply tailored, turnkey plants and components for customers in the chemical, fertilizer, cement, mining and steel industries.
Latest News
(Posted on 19/09/23)
ClassNK has conducted third-party certification for the CO2 emissions reductions of "JGreeX&trade... Read more
(Posted on 12/09/23)
Charterers can save hundreds of thousands of dollars of unnecessary demurrage costs by drilling down... Read more
(Posted on 08/09/23)
Nippon Kaiji Kyokai (ClassNK) has joined the major classification societies to amend its rules relating... Read more
(Posted on 08/09/23)
On behalf of SLPLUS Holding and based on their trust in Feyz Group's operational capabilities,... Read more
(Posted on 08/09/23)
Leading corporate wellbeing provider OneCare Solutions (OCS) has launched the OneCare Solutions Mobile... Read more
(Posted on 04/09/23)
With CCS-Ready scrubbers now being sold at pace, Wärtsilä's studies across a range of... Read more
(Posted on 04/09/23)
German Ship Repair Jamaica Limited (GSRJ), a private joint venture of German, Turkish and Jamaican investors... Read more
(Posted on 28/08/23)
The 'clipboard, pen and paper' approach to creating Statement of Facts (SoF) documents is... Read more
(Posted on 21/08/23)
KVH Industries, Inc. has announced the completion of a three-year renewal of its satellite services... Read more
(Posted on 14/08/23)
KVH has announced its membership in ISWAN (The International Seafarers' Welfare and Assistance... Read more