Thordon Bearings appoints first female CEO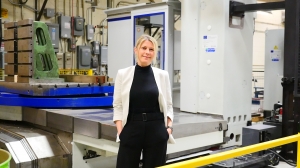 (Posted on 08/05/21)
Anna Galoni has been appointed Chief Executive Officer (CEO) of bearing and seal specialist Thordon Bearings Inc., a Thomson-Gordon Group company.
Galoni joined the Burlington, Ontario-headquartered company in 2007 after graduating from Queens University with a Masters' Degree in Epidemiology.
Prior to her appointment in April, she held a number of senior roles in various departments including Human Resources Director, New Product Development Director and, subsequently, Chair, Thordon Bearings – a position she continues to hold.
Her appointment follows the retirement of Terry McGowan, who stepped down after almost 14 years in the CEO role.
Galoni said: "I am very excited to be leading Thordon Bearings at this new juncture in its long and illustrious history. I look forward to working with the Senior Management Team to build on the work of my predecessor and to ensure the company remains at the very forefront of environmentally focused maritime seal and bearing solutions.
"We have now completed an internal restructure and finalised a set of business objectives designed to strengthen our leading position in our core market segments while creating opportunities in new ones, such as the forestry and mining industries. We are also close to unveiling new marine products, which are likely to result in more ship types returning to water lubricated propeller shafts.
"We are not a huge company, but we make a significant difference in terms of customer value, customer service and in helping customers' achieve their operating and environmental sustainability goals."
As the company's first female CEO, Galoni hopes the appointment will encourage more women to consider senior executive positions in the maritime and industrial manufacturing sectors.
"A woman does bring a different viewpoint to the Boardroom, but these industries are still male-dominated industries," she said.
"We recently advertised a senior role but when I asked about the proportion of women that had applied for the role, I was shocked to learn there were none. Maybe they might be more open to applying for jobs in the manufacturing sector when there is a female at the helm, I don't know. What I do know is that these industries need to be made more attractive to women. Boardrooms need to be diverse; they need to be open to different concepts, different perspectives, different ideas."
Commenting on her appointment Thomson-Gordon Group Innovator and Thordon Bearings' Founder, George (Sandy) A. Thomson, said: "I am delighted to announce the appointment of my stepdaughter Anna as our new CEO. After three generations of family ownership, the Thomson-Gordon Group and Thordon Bearings is now looking to a fourth-generation family member to safely navigate the company through the challenges of the future.
Latest News
(Posted on 28/03/23)
DNV has enhanced its Alternative Fuels Insight (AFI) data platform as part of an effort to accelerate... Read more
(Posted on 24/03/23)
Bruks Siwertell has secured an order for a next-generation Siwertell road-mobile ship unloader, which... Read more
(Posted on 20/03/23)
Thordon Bearings is supplying its grease-free, self-lubricating ThorPlas-Blue bearing material to a... Read more
(Posted on 20/03/23)
French water treatment specialist BIO-UV Group has appointed Laurent-Emmanuel Migeon as its new Chairman... Read more
(Posted on 07/03/23)
With Wärtsilä's CII Dashboard, Anglo-Eastern is now able to make better informed decisions... Read more
(Posted on 07/03/23)
Bruks Siwertell has completed the commissioning of two large-scale Siwertell ST 790-D-type ship unloaders... Read more
(Posted on 28/02/23)
A consortium including technology group Wärtsilä has secured European Union funding to develop... Read more
(Posted on 28/02/23)
Bruks Siwertell has received an order for a next-generation Siwertell road-mobile ship unloader from... Read more
(Posted on 24/02/23)
Global Survival Technology solutions provider Survitec has introduced a new, formalised pre-inspection... Read more
(Posted on 24/02/23)
The slightest deviation in the machining, polishing, and finishing of ships' propeller blades... Read more