Test confirms zircon sand not corrosive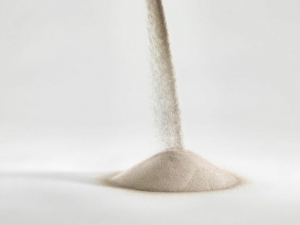 (Posted on 30/05/19)
Zircon sand is not corrosive to metals when tested in accordance with the International Maritime Organization's (IMO) Interim Guidance for Conducting the Refined MHB (Materials Hazardous only in Bulk) Corrosivity (Cr) Test, the Zircon Industry Association (ZIA) has announced.
ZIA has published an Industry Position Paper outlining its findings following an independent test carried out by global consulting and advisory firm, DEKRA Insight (UK). The test, carried out over a 7-day period in February 2019, concluded that there was 0% mass loss on steel, with no observed surface pitting. Therefore, zircon sand is not a corrosive solid bulk material.
The IMO's International Maritime Solid Bulk Cargoes (IMSBC) Code requires material carried in bulk to be tested for corrosivity to metals. However, the specified UN C.1 test was developed for liquids and was not validated for solids. Refinements to this C.1 test and guidance that extends and details the testing method were developed following a research program carried out by a Global Industry Alliance. The IMO member states of Australia, Brazil, Canada and the USA proposed the amendments to the IMSBC Code.
To provide clarity in the short term, ZIA commissioned DEKRA Insight to test a sample of zircon sand that previously failed the UN C.1 test. Zircon sand from the same sample was re-tested at the same laboratory, using the test method in accordance with IMO's Interim Guidance for Conducting the Refined MHB Corrosivity (Cr) Test. The results demonstrated that bulk zircon sand is not corrosive to metal.
Dr Keven Harlow, Executive Director, ZIA, said, "This test result shows conclusively that bulk zircon sand is not corrosive to metal. Our industry position paper including this test data can be used by our members and relevant authorities to ensure that zircon sand continues to be shipped safely and effectively across the globe."
"Zircon is an essential material in our modern world, and is used in everything from ceramic tiles, to electronic equipment, nuclear reactors, medical implants and jet engines."
A summary of the test results can be found in the Industry Position Paper and a full copy of the DEKRA Insight test report is available to ZIA members and relevant maritime authorities.
Latest News
(Posted on 28/03/23)
Fertilizers Europe has called on EU co-legislators to ensure that clean fertilizer and ammonia production... Read more
(Posted on 24/03/23)
BHP and global engineering, project management and professional services firm, Hatch, have signed an... Read more
(Posted on 20/03/23)
Rio Tinto increased its spend with Australian suppliers to more than A$15.3 billion in 2022, as part... Read more
(Posted on 20/03/23)
Trafigura Group Pte Ltd., a market leader in the global commodities industry, has announced the closing... Read more
(Posted on 07/03/23)
Nexyst 360, an innovative grain transportation solution provider, has partnered with Nexxiot to digitalize... Read more
(Posted on 28/02/23)
Cargill has announced the appointments of Joanne Knight as Chief Financial Officer (CFO) and Philippa... Read more
(Posted on 24/02/23)
Trafigura, a market leader in the global commodities industry, has entered into a USD 500 million five... Read more
(Posted on 22/02/23)
British Steel has announced proposals to close its coke ovens as part of its drive to overcome global... Read more
(Posted on 20/02/23)
Global miner Rio Tinto and Japanese trader and business conglomerate Marubeni Corporation have agreed... Read more
(Posted on 20/02/23)
Trafigura, a market leader in the global commodities industry, and Ecobat, the global leader in battery... Read more