Telestack invests for continued success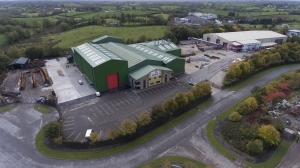 (Posted on 31/01/19)
Northern Ireland manufacturer Telestack has further committed to its future in Omagh by announcing an additional investment of £5 million in a new factory in the Doogary Industrial Estate. Leading the international mobile material handling market, Telestack supply some of the largest blue-chip companies in the world. Designed, manufactured and exported from their current 105,000 square foot manufacturing facility in Omagh, Telestack plan to extend their manufacturing capacity by initially building a phase one 45,000sqft factory on a green field site next to the current Fane Valley factory which will incorporate state of the art manufacturing premises, a dedicated Research and Innovative Development centre and modern office suite - all of which is central to their continued growth strategy.
The engineering acumen within Tyrone is renowned globally and the expertise within Telestack has grown and developed significantly over their 34 year tenure. In addition to their Aggregate and Mining Group, Telestack has matured within another material handling niche in the Ports and Inlands Terminals sector, designing and manufacturing equipment to load and unload dry bulk onto vessels up to Panamax (up to 80,000 tonne). Their equipment is involved in some of the most ground-breaking, exciting and forward thinking projects across the globe with the company gaining serious traction in other industries such as the rail, power, cement and steel plants.
Employing almost 160 local people, Telestack has demonstrated enviable year on year sales growth with sales more than doubling in the last 3 years. Telestack in the last 2 years alone have invested almost £4million in their current Bankmore site within Doogary Industrial Estate, with a state-of-the-art shot-blast, 2 paint booths and an additional manufacturing facilities which have all contributed to their impressive sales and operational performance.
Managing Director Martin Dummigan explains what the local investment means for Telestack and the people that they employ "Telestack has grown rapidly over the last number of years and we have firm plans to double our revenue again in the next 3.5 years. We have out-grown our current facility and we need to extend our manufacturing footprint to meet the international demand for our products. We have made a conscious decision, even in the face of Brexit uncertainty, to invest locally. We have a unique skill base in Omagh and we need to protect Telestack's engineering acumen. The marketplace has become somewhat flooded with companies who try to copy our designs but you simply can't buy experience. For want of a better cliché you have to earn your stripes. We have the experience, the commitment and the enthusiasm to continue forging ahead and continue leading the market hence the purpose built Research and Innovative Development centre. We have an aggressive strategy to continue growing our sales and we are committed to Omagh, to the people that we employ and to the local suppliers and businesses that will continue to benefit from the Telestack success story. As we move through 2019, Telestack will be recruiting for a variety of disciplines including manufacturing, design, sales and aftermarket support."
Telestack's international portfolio is vast and varied, and with over three decades of experience, they certainly do not shy from the complicated or intricate. Telestack recently designed and manufactured the largest international mobile bulk reception feeder in the world and the unit is currently loading aggregates onto barges for a large American multi-national corporation at loading rates in excess of 14,000 tonnes per day. Telestack have also recently installed a unit as part of the multi-billion pound Thames Tideways Tunnel in London. Tideway are building a major new sewer under the River Thames (named the "super-sewer") which is urgently needed to stop millions of tonnes of sewage overflowing into the River Thames. At 15 miles long, seven metres wide and up to 65 metres deep, the Thames Tideway Tunnel is the biggest infrastructure project ever undertaken by the UK water industry. The Telestack unit will be at the end of the tunneling process to load the tunnel clay onto barges fed from a fixed conveyor.
The company opens 2019 with its largest order book ever as they build on the successes of 2018. This includes projects for Africa, USA, South America, Europe, Russia and Asia to allow 2019 to continue the global penetration of prior years.
Latest News
(Posted on 27/01/23)
Biofuels are a current and accessible fuel option that can help marine customers decarbonize. Yet while... Read more
(Posted on 27/01/23)
BIO-UV Group has reported a 31% increase in revenues from its maritime business segment, contributing... Read more
(Posted on 23/01/23)
KVH Managed Firewall and Cloud Email value-added services available to commercial fleets to enhance... Read more
(Posted on 23/01/23)
NAVTOR has been announced as the latest industry leader to join the Smart Maritime Network (SMN).The... Read more
(Posted on 16/01/23)
One Sea has welcomed intelligent navigation solutions provider, Orca AI, as the newest member of the... Read more
(Posted on 10/01/23)
Elcome International, a leading provider of maritime systems and integration solutions, is providing... Read more
(Posted on 10/01/23)
Corrosion Products & Equipment (CPE), a specialist engineering firm based in Rochester, New York... Read more
(Posted on 04/01/23)
Bruks Siwertell has secured a new Siwertell ship unloader contract from cement and ready-mix concrete... Read more
(Posted on 23/12/22)
Superior Industries, Inc., a US-based manufacturer and global supplier of bulk material processing and... Read more
(Posted on 23/12/22)
Bruks Siwertell has received an order from Hallet Capital Pty Ltd for a Siwertell ship unloader. It... Read more