Superior expands conveyor offering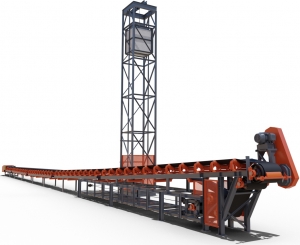 (Posted on 17/12/20)
Superior Industries, Inc., a U.S.-based manufacturer and global supplier of bulk material processing and handling systems, is launching a new model of its popular Zipline Overland Conveyors. The new EXT Series expands the range of the modular conveyor product line for longer and wider material handling applications.
Zipline Conveyors target bulk producers looking for overland conveyors that require little or no pre-engineering for express deliveries and are designed for quick assembly in the field. Today, with the addition of the new EXT Series, Zipline Conveyors are available in lengths up to 2,500 (762m) feet and belt widths up to 48-inches (1,220mm).
Between the head and tail are a series of 40-foot (12.2m) intermediate sections designed with an 8-inch (200mm) channel and 2-foot (610mm) tall support stands. Standard Zipline Conveyor models are equipped with mechanical take-ups for shorter distances, but the new EXT Series includes a gravity take-up tower to accommodate longer-distance overland conveying.
All of the conveyor components -- like the pulleys, idlers and scrapers -- are also manufactured in-house. This unique advantage means higher quality, faster deliveries and all-inclusive support from Superior Industries.
From Rock Face to Load Out, Superior Industries engineers and manufactures ground-breaking bulk material processing and handling equipment and cutting-edge components. From its headquarters in Morris, Minnesota, USA, the manufacturer supplies bulk crushing, screening, washing and conveying systems plus all related parts and services for industries like aggregates and mining. In addition to its home plant, Superior operates from three additional U.S. facilities, plus international factories in Canada, Brazil and China.
Latest News
(Posted on 07/12/23)
In an initiative set to be transformational for ship design while protecting the oceans from pollution... Read more
(Posted on 03/12/23)
Ship design, particularly the design of bulk carriers, presents particular challenges when it comes... Read more
(Posted on 26/11/23)
VIKING Life-Saving Equipment, a global leader in maritime safety solutions, is launching an innovative... Read more
(Posted on 26/11/23)
Damen's client Gerdes Green has received a subsidy from the German Government for the investment... Read more
(Posted on 17/11/23)
A first of its kind training course for the Middle East has been held to teach mariners about the basic... Read more
(Posted on 13/11/23)
Wärtsilä ANCS, part of technology group Wärtsilä, has delivered to Seaspan, a marine... Read more
(Posted on 31/10/23)
The flag raising ceremony for three new ASD Tugs has taken place in Gdansk, Poland. In the presence... Read more
(Posted on 26/10/23)
A new immersive crane simulator that can recreate high-risk scenarios without putting drivers or other... Read more
(Posted on 23/10/23)
Vesto Ropes, a global leader in innovative steel wire-rope solutions, has announced a strategic partnership... Read more
(Posted on 23/10/23)
Bedeschi S.p.a. has been awarded a contract for the design and supply of a new longitudinal storage... Read more