Suez demonstrates importance of shipping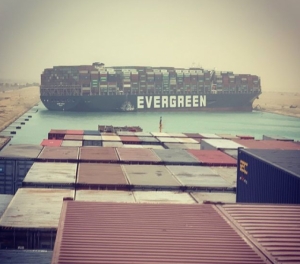 (Posted on 28/03/21)
As efforts to refloat the Ever Given continue, the International Chamber of Shipping (ICS) has released a statement on the ongoing blockage of the Suez Canal by the giant container ship, noting that the incident lays bare the fragility of global supply chains.
Guy Platten, secretary general of the ICS, said: "This kind of incident is rare, and it is a relief to see that no crew were injured and there has been no pollution. We hope that the Ever Given will be re-floated soon so that trade can resume through this vital waterway, and I know huge efforts are underway to achieve this. The world relies on the shipping sector to keep all of us supplied and the incident in the Suez Canal has shone a spotlight on the delicate nature of these global supply chains.
"The literal 'pinch point' of Suez is a prime example of how an unexpected incident can disrupt the finely balanced system that we all rely on."
"The majority of trade between Asia and Europe still relies on the Suez Canal, and given that vital goods including vital medical equipment and PPE, are moving via these ships we call on the Egyptian authorities do all they can to reopen the canal as soon as possible."
An estimated 12% of global trade passes through the Suez Canal, comprising more than one billion tonnes of goods each year.
Guy Platten continued: "Not only will the goods aboard the Ever Given be severely delayed on their journey, but the hundreds of other ships are also affected. The damage done to the global supply chain will be significant."
"This also speaks to a deeper problem. The governments and markets are sitting up and paying attention to this issue as we can clearly see an economic fallout from the delay to goods the blockage will cause. But shipping's ongoing crew change crisis has been largely still invisible to wider public. Crew are still working hard around the globe to keep global trade moving, despite 200,000 seafarers being impacted by overly harsh restrictions which stop them boarding or disembarking ships."
"We hope this incident will remind governments of the vital role that seafarers and shipping plays in keeping the world supplied. Seafarers must not be forgotten as soon as this incident is over."
Latest News
(Posted on 26/11/23)
Shi.E.L.D. Services has selected Spinergie as its preferred digitized solution provider to monitor and... Read more
(Posted on 26/11/23)
Thousands of cadets and trainees in India will benefit from in-depth wellness training and support thanks... Read more
(Posted on 17/11/23)
As shipping continues its journey to decarbonisation, INTERCARGO will host a special forum in Athens... Read more
(Posted on 13/11/23)
INTERCARGO was deeply saddened and concerned to hear of the reported appalling missile attack on the... Read more
(Posted on 13/11/23)
A new-look Wellness at Sea Awareness Campaign for seafarers, their families and shore staff that &ldquo... Read more
(Posted on 05/11/23)
Classification society DNV has entered into a Joint Development Project (JDP) with AL Group and its... Read more
(Posted on 31/10/23)
Samsung Heavy Industries (SHI) and leading classification society DNV have inked a Memorandum of Understanding... Read more
(Posted on 31/10/23)
WISTA International, during its Annual General Meeting (AGM) held in Montevideo, Uruguay, on 25 October... Read more
(Posted on 31/10/23)
Members of INTERCARGO met in Athens last week for the Association's Annual General Meeting, Executive... Read more
(Posted on 26/10/23)
The Columbia Group (Columbia) has opened a new manning agency, Columbia Shipmanagement Vietnam (CSM... Read more