Siwertell technology ordered for enclosed cement handling in Adelaide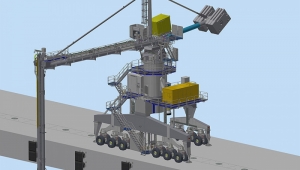 (Posted on 23/12/22)
Bruks Siwertell has received an order from Hallet Capital Pty Ltd for a Siwertell ship unloader. It will secure environment-friendly cement handling in the South Australian port of Adelaide.
"Hallet Capital is a new customer for us, and part of its decision to choose Siwertell technology was based on Bruks Siwertell's extensive experience with other cement import terminals," says Jan Karlsson, Sales Manager, APAC, Bruks Siwertell.
A gantry-mounted Siwertell 490 F-type unit has been ordered along with a jetty screw-conveyor system feeding a dome silo and individual screw conveyors for installation inside the dome.
"There were two main considerations for this contract," notes Karlsson. "The first was environmental protection and the second was designing a system that could be moved away from the jetty when not discharging vessels, as the port of Adelaide does not allow any fixed installations to hinder other operations within the port. We were able to meet both.
"The ship unloader will be fitted with a rubber-tire wheelbase ensuring in-port mobility," he explains. "Furthermore, the jetty conveyor system will be installed in a recess so that the jetty remains clear for other activities. The entire system, from material pick-up in the vessel's hold to the dome silo, will be totally enclosed, providing a virtually dust-free operation in the port, with no spillage."
The new Siwertell ship unloader will be suitable for discharging bulkers up to 40,000 dwt at a rated cement handling capacity of 500t/h. It is planned for delivery in August 2023 and will be assembled on site.
Latest News
(Posted on 03/12/23)
Ship design, particularly the design of bulk carriers, presents particular challenges when it comes... Read more
(Posted on 26/11/23)
VIKING Life-Saving Equipment, a global leader in maritime safety solutions, is launching an innovative... Read more
(Posted on 26/11/23)
Damen's client Gerdes Green has received a subsidy from the German Government for the investment... Read more
(Posted on 17/11/23)
A first of its kind training course for the Middle East has been held to teach mariners about the basic... Read more
(Posted on 13/11/23)
Wärtsilä ANCS, part of technology group Wärtsilä, has delivered to Seaspan, a marine... Read more
(Posted on 31/10/23)
The flag raising ceremony for three new ASD Tugs has taken place in Gdansk, Poland. In the presence... Read more
(Posted on 26/10/23)
A new immersive crane simulator that can recreate high-risk scenarios without putting drivers or other... Read more
(Posted on 23/10/23)
Vesto Ropes, a global leader in innovative steel wire-rope solutions, has announced a strategic partnership... Read more
(Posted on 23/10/23)
Bedeschi S.p.a. has been awarded a contract for the design and supply of a new longitudinal storage... Read more
(Posted on 18/10/23)
Rhenus Maritime Services (RMS) is adding a new coastal vessel to its fleet in the shape of the RMS Ruhrort... Read more