Siwertell's eco-friendly ore handling order from Ireland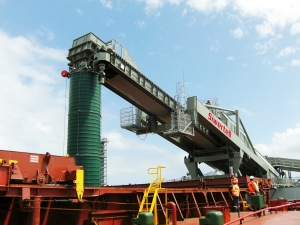 (Posted on 16/08/18)
Siwertell, part of Bruks Siwertell Group, has secured an order for a ship loading system from Irish mining company, Boliden Tara Mines DAC; an operating subsidiary of Boliden AB. The specially-designed system will serve the company's new terminal located in Dublin Port's Alexandra Basin, ensuring close to zero dust emissions for the operator. The order was booked into Bruks Siwertell Group's second quarter order intake.
"Boliden required a flexible system capable of handling a variety of cargoes and a wide range of vessel sizes, but with a very strict approach to dust emissions," explains Peter Göransson, Sales Manager and Senior Advisor, Siwertell. "Our lengthy experience and expertise in bulk material loading was a significant factor in winning this contract, including the fact that no efforts were spared in designing a triple-enclosed loading system that will ensure as close to zero emissions as technologically possible for the operator.
"A high loading capacity, combined with easy system operation and low service and maintenance costs, were also significant factors in Boliden's decision to invest in Siwertell's market-leading technology. Additionally, it complies with best available technology (BAT) and reference document (BREF) regulations," adds Mr Göransson.
The new system comprises a triple-enclosed belt-type ship loader, with luffing and slewing capabilities, a reversible shuttle-belt conveyor with dual remotely-operated connection points, as well as a triple-enclosed jetty and overland conveyor.
It will handle zinc and lead concentrates, which are transferred from rail wagons to a receiving storage building. From here, a conveyor belt leads to a new quayside facility in Alexandra Basin. Siwertell designs are well-suited for sticky and hard-to-handle materials and the new system will be capable of loading ships of up to 10,000 dwt at a continuous rated capacity of 600t/h.
"Based on Siwertell designs, and with production and construction supervision as a part of the delivery scope, Siwertell, together with local partners, will have full control of the project from design to handover," continues Mr Göransson. "With carefully-selected components from Swedish and other European sub-contractors, we will deliver an efficient, reliable, high-performance system with low operational and maintenance costs."
The steel structures for the ship loader will be produced in Far East and equipment will be mainly supplied from Sweden. The overland and jetty conveyor will be produced locally in Ireland with the conveyor equipment supplied from Europe. The system will be erected and commissioned at Dublin Port in partnership with an expert Irish company and is expected to be fully operational by August 2019.
Latest News
(Posted on 20/03/23)
Thordon Bearings is supplying its grease-free, self-lubricating ThorPlas-Blue bearing material to a... Read more
(Posted on 20/03/23)
French water treatment specialist BIO-UV Group has appointed Laurent-Emmanuel Migeon as its new Chairman... Read more
(Posted on 07/03/23)
With Wärtsilä's CII Dashboard, Anglo-Eastern is now able to make better informed decisions... Read more
(Posted on 07/03/23)
Bruks Siwertell has completed the commissioning of two large-scale Siwertell ST 790-D-type ship unloaders... Read more
(Posted on 28/02/23)
A consortium including technology group Wärtsilä has secured European Union funding to develop... Read more
(Posted on 28/02/23)
Bruks Siwertell has received an order for a next-generation Siwertell road-mobile ship unloader from... Read more
(Posted on 24/02/23)
Global Survival Technology solutions provider Survitec has introduced a new, formalised pre-inspection... Read more
(Posted on 24/02/23)
The slightest deviation in the machining, polishing, and finishing of ships' propeller blades... Read more
(Posted on 20/02/23)
Bühler expanded its business and improved profitability in an uncertain and volatile business environment... Read more
(Posted on 20/02/23)
Wärtsilä plans to further focus on end-to-end voyage optimisation and to move part of Voyage... Read more