Siwertell extend Singapore cement handling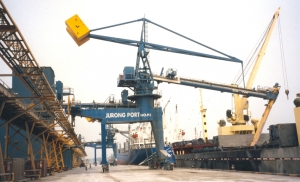 (Posted on 31/07/20)
Bruks Siwertell has secured a prestigious new order that will see the company deliver three new Siwertell ship unloaders to Jurong Port in Singapore. The trio will join existing Siwertell technology, delivered in the late 1990s, and together they will ensure the environment-friendly handling of Singapore's cement imports.
"This is a further, very positive endorsement of our Siwertell ship unloading technology, " says Ola Jeppsson, Bruks Siwertell Sales Manager, APAC. "The new units, like all Siwertell unloaders are totally enclosed, and will secure the continuation of extremely efficient, high-capacity cement handling for the port, without dust emissions or spillage, so no cement is wasted and the environment is protected."
Singapore upholds strict environmental standards in cement handling and Jurong Port works closely with its local government authorities on establishing requirements and measures to minimize fugitive dust from such industrial operations, and maintaining operational safety standards. As the world's largest common user cement terminal for over twenty years, Jurong Port's Cement Terminal started off with three high-capacity Siwertell ship unloaders that collectively met the cement handling needs of multiple smaller import terminals. "With the evolution of technology and equipment, Jurong Port is delighted to work with Siwertell to take our terminal's capabilities and standards further in our vision of becoming a Next Generation Multipurpose Port," says Tan Wee Meng, Chief Technical Officer, Jurong Port.
"It is now time to retire two of those hard-working unloaders," continues Mr Jeppsson. "They have served the terminal well for over two decades, and their proven performance was a deciding factor in the port once again opting for Siwertell technology. The new units will continue their legacy of impressive through-ship efficiencies and will work alongside one of the older units, which will remain in service. Together they will handle Singapore's cement import volumes."
Like their predecessors, the three new ST 490-M screw-type rail-travelling unloaders will each discharge cement, fly ash and cement slag from vessels up to 50,000 dwt at a continuous rated capacity of 800t/h.
Two of the new unloaders are scheduled for delivery in May 2022 and the third by the end of 2022. All will be fully assembled prior to delivery and transported by heavy-lift ship. Final commissioning and performance tests will be carried out in Jurong Port.
Besides Jurong Port, there are two rail-mounted ST 640-M Siwertell unloaders, in operation at Jurong Island, which handle coal and biomass for TP Utilities' Tembusu Multi-Utilities Complex (TMUC) power-generation facility.
Latest News
(Posted on 03/12/23)
Ship design, particularly the design of bulk carriers, presents particular challenges when it comes... Read more
(Posted on 26/11/23)
VIKING Life-Saving Equipment, a global leader in maritime safety solutions, is launching an innovative... Read more
(Posted on 26/11/23)
Damen's client Gerdes Green has received a subsidy from the German Government for the investment... Read more
(Posted on 17/11/23)
A first of its kind training course for the Middle East has been held to teach mariners about the basic... Read more
(Posted on 13/11/23)
Wärtsilä ANCS, part of technology group Wärtsilä, has delivered to Seaspan, a marine... Read more
(Posted on 31/10/23)
The flag raising ceremony for three new ASD Tugs has taken place in Gdansk, Poland. In the presence... Read more
(Posted on 26/10/23)
A new immersive crane simulator that can recreate high-risk scenarios without putting drivers or other... Read more
(Posted on 23/10/23)
Vesto Ropes, a global leader in innovative steel wire-rope solutions, has announced a strategic partnership... Read more
(Posted on 23/10/23)
Bedeschi S.p.a. has been awarded a contract for the design and supply of a new longitudinal storage... Read more
(Posted on 18/10/23)
Rhenus Maritime Services (RMS) is adding a new coastal vessel to its fleet in the shape of the RMS Ruhrort... Read more