Shipowners shortchanged over grain cargoes, says Swedish Club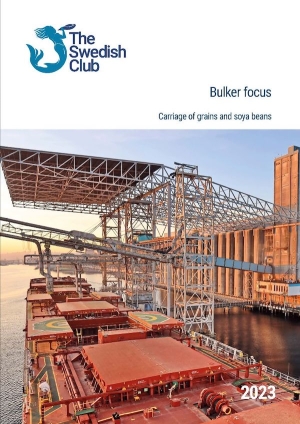 (Posted on 28/08/23)
Despite the many and varied categories of cargo damage faced by shipowners transporting grain cargoes, when it comes to claims, it's actually cargo shortage that they need to be prepared for, says The Swedish Club, in its new publication, Bulker Focus: Carriage of grains and soya beans.
In the last five years, the Club's statistics show that shortage was the most common type of claim for bulkers carrying grains, contributing to 63% of all claims. About 70% of these shortage claims occur due to discrepancies between the vessel's figures and shore figures with most claims arising in North Africa over the five-year period as a whole.
The Swedish Club's Director, Claims, Johan Kahlmeter explains: "In Argentina and many North African countries it is not unusual for there to be discrepancies between the shipper's figures based on shore scales, and draft surveys. Each country has its own rationale for this, but the bottom line is that the operator can find themselves seriously out of pocket through no fault of their own. Indeed, in some North African countries draft surveys are not recognised at all. Although each shortage claim averages to about only USD 35,000 there are so many of them that they make up nearly half (44%) of the Club's claims costs for bulkers carrying grain."
In the publication the Club provides a checklist of advice to help operators to protect themselves from these claims, including the use of surveyors, taking care with record keeping, and getting the Club involved when asked by third parties to sign statements.
Claims have also increased significantly over the period, in part due to COVID. Whilst an average of 5.6% of all bulk carriers insured have made a grain claim over the last five years, there has been a steady increase in the frequency of claims. Only 3.7% of vessels made a claim in 2018 compared with 8.9% in 2022. In this five-year period there were few claims in China until 2021, but since then the Club has seen a steady increase in the region, related to disruption and delays in Chinese ports due to COVID.
Authored by Joakim Enström, Senior Loss Prevention Officer at the Club, Bulker Focus: Carriage of grains and soya beans has been written in conjunction with cargo specialists CWA and focuses on the loading, carriage and discharge of bulk grain, oilseed and soya bean cargoes. These present numerous challenges with a range of considerations for the crew to consider prior to and during carriage of the cargo. The publication explores the most common causes of cargo damage, and how to prevent them, and also looks at fumigation and ventilation in detail. It aims to provide ship operators with understanding of the common issues experienced during carriage of these cargoes in addition to ways to avoid them.
Latest News
(Posted on 07/12/23)
Rio Tinto has approved a $77 million (A$110 million) pre-feasibility study (PFS) to progress development... Read more
(Posted on 03/12/23)
Rio Tinto and Giampaolo Group have completed a transaction to form the Matalco joint venture, combining... Read more
(Posted on 03/12/23)
Khalifa Economic Zones Abu Dhabi – KEZAD Group, the largest operator of integrated and purpose... Read more
(Posted on 26/11/23)
ADM, a leader in sustainable agriculture supply chains, has announced an important expansion of its... Read more
(Posted on 17/11/23)
Trafigura, a market leader in the global commodities industry, has agreed to invest in an all-in-one... Read more
(Posted on 17/11/23)
ADM and Marathon Petroleum Corp. have celebrated the opening of their joint venture soybean processing... Read more
(Posted on 13/11/23)
Former U.S. Grains Council (USGC) Director of Global Programmes Alejandra Castillo was named the successor... Read more
(Posted on 13/11/23)
Rio Tinto has completed the acquisition of PanAmerican Silver's stake in Agua de la Falda and... Read more
(Posted on 05/11/23)
Cargill has completed an expansion and modernization project at its integrated soybean crush and refined... Read more
(Posted on 31/10/23)
BHP has approved an investment of US$4.9 billion (C$6.4 billion) for stage two of the Jansen potash... Read more