SCG connects with Castor Marine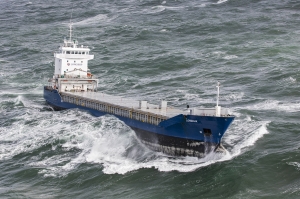 (Posted on 10/07/20)
On its fleet, SCG offers its personnel a Crew Welfare Zone with free internet within the 12-mile (4G) zone. To realise this, SCG wanted a plug&play, cost-efficient system that is always operational and doesn't interfere with the crew's activities.
To make this happen, a seamless transition between 4G and the Inmarsat Fleetbroadband (or Iridium Open Port L-Band satellite connection) outside that zone was needed. Castor Marine's 4G Connectivity Package (incl. dedicated software installed on the Peplink routers) ensures a seamless failover of connectivity between the 4G and satellite connection. Hence, the crew doesn't notice the transition and simply can get on with their work. Furthermore, the connection allows for real-time data insights from any device.
When Clemens Ros and Marc van Gemert from SCG's IT department wanted advice about a 4G service for its crew, Castor Marine came up with a hybrid connectivity solution switching between 4G LTE and L-band.
Marc van Gemert, IT Manager at SCG, says: "We chose Castor Marine because of the pleasant cooperation, correct pricing and their responsive way of working which ensures that the technical solution we were looking for was customised to our fleet. Actually, some of our captains have already reported that they had 4G connectivity at 45 nautical miles from the coast. We are looking forward to see the system installed and then be able to forget about it!"
Raymon Lubbers, sales director at Castor Marine says: "With our system, you'll never have to check if an internet connection is still running when it shouldn't. The services and equipment we deliver have to work, always. Both as crewmember and in the office, you don't notice these things until it doesn't work. We strive, on every vessel, to never reach that point. That is why we have tested and certified the 4G solution extensively. It is also the reason our Support Network Operating Centre is on call 24/7."
Shipping Company Groningen was established at the end of 2016 after a merger between Feederlines, Navigia and Thorco Shipping Holland and provides full service shipmanagement services to a worldwide sailing fleet of around 35 vessels.
Castor Marine delivers secure internet connectivity and IT networks. The company is part of Castor Networks (est. 2005), privately owned and has offices in the Netherlands (HQ), Norway and France.
Latest News
(Posted on 31/03/23)
Konecranes has won an order for two Konecranes Gottwald Cranes on Barge from Winning Logistics in Guinea... Read more
(Posted on 31/03/23)
Technology group Wärtsilä has introduced a new radical derating retrofit solution –... Read more
(Posted on 31/03/23)
Thomas Zanzinger, CEO of Ocean Technologies Group (OTG), outlined why he thought many maritime businesses... Read more
(Posted on 28/03/23)
DNV has enhanced its Alternative Fuels Insight (AFI) data platform as part of an effort to accelerate... Read more
(Posted on 24/03/23)
Bruks Siwertell has secured an order for a next-generation Siwertell road-mobile ship unloader, which... Read more
(Posted on 20/03/23)
Thordon Bearings is supplying its grease-free, self-lubricating ThorPlas-Blue bearing material to a... Read more
(Posted on 20/03/23)
French water treatment specialist BIO-UV Group has appointed Laurent-Emmanuel Migeon as its new Chairman... Read more
(Posted on 07/03/23)
With Wärtsilä's CII Dashboard, Anglo-Eastern is now able to make better informed decisions... Read more
(Posted on 07/03/23)
Bruks Siwertell has completed the commissioning of two large-scale Siwertell ST 790-D-type ship unloaders... Read more
(Posted on 28/02/23)
A consortium including technology group Wärtsilä has secured European Union funding to develop... Read more