Safe sulphur handling for Israel´s largest port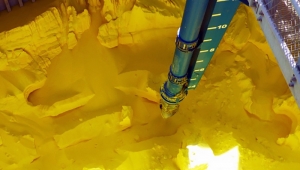 (Posted on 13/08/19)
Bruks Siwertell has signed a contract with Ashdod Port Company Ltd for the delivery of a Siwertell ST 490-M screw-type ship unloader destined to serve Israel's largest sea port. A fundamental requirement of the port was environmental protection; the totally-enclosed Siwertell unloader was the only system that could meet the standard and also offer safe, high-capacity through-ship performance.
"Ashdod Port Company chose Siwertell technology to secure its substantial and growing dry bulk cargo volumes for a number of reasons," explains Bertil Andersson, Siwertell Sales Manager. "Most significantly, our Siwertell unloaders are the only proven solution for safe, enclosed and continuous sulfur unloading. They also meet the port's strict environmental requirements, handling materials without dust or spillage."
Ashdod is Israel's largest sea port in terms of cargo volumes and is a major gateway for the State of Israel. The new Siwertell ship unloader has been ordered as part of the port's major expansion plans. It will be rail-mounted and used to discharge sulfur and pet coke at continuous rated capacities of 600t/h and 500t/h respectively from vessels up to 60 000 dwt.
Although a valuable and widely used commodity, sulfur is highly toxic, volatile and corrosive. For these reasons, it is now environmentally unacceptable for it to be spilled during unloading. However, its containment increases the likelihood of 'hot spots' creating the potential to explode and cause fires.
"We know how to deal with these dangers," notes Mr Andersson. "Our sulfur-handling ship unloaders have been supplied to the market for over 30 years. All these units are fitted with the Siwertell Sulfur Safety System (4S), which detects and extinguishes fires early, shutting down the system to stop their spread, and safely containing them before they can become a full-blown blaze. To contain explosions, steel casings are reinforced and explosion-venting valves are fitted along the conveyors to relieve pressure."
Ashdod's bulk terminal operates 24 hours a day and the new ship unloader is destined to serve this facility. It will be built and transported fully-assembled via heavy-lift vessel for installation at the port. Delivery is scheduled for April 2021.
Bruks Siwertell design, produce and deliver systems for loading, unloading, conveying, storing, and stacking and reclaiming dry bulk materials, alongside equipment for chipping, screening, milling and processing wood for the biofuel, board, saw mill, pulp and paper industries. All equipment is designed to ensure environmentally-friendly and efficient cargo operations.
Latest News
(Posted on 03/12/23)
Ship design, particularly the design of bulk carriers, presents particular challenges when it comes... Read more
(Posted on 26/11/23)
VIKING Life-Saving Equipment, a global leader in maritime safety solutions, is launching an innovative... Read more
(Posted on 26/11/23)
Damen's client Gerdes Green has received a subsidy from the German Government for the investment... Read more
(Posted on 17/11/23)
A first of its kind training course for the Middle East has been held to teach mariners about the basic... Read more
(Posted on 13/11/23)
Wärtsilä ANCS, part of technology group Wärtsilä, has delivered to Seaspan, a marine... Read more
(Posted on 31/10/23)
The flag raising ceremony for three new ASD Tugs has taken place in Gdansk, Poland. In the presence... Read more
(Posted on 26/10/23)
A new immersive crane simulator that can recreate high-risk scenarios without putting drivers or other... Read more
(Posted on 23/10/23)
Vesto Ropes, a global leader in innovative steel wire-rope solutions, has announced a strategic partnership... Read more
(Posted on 23/10/23)
Bedeschi S.p.a. has been awarded a contract for the design and supply of a new longitudinal storage... Read more
(Posted on 18/10/23)
Rhenus Maritime Services (RMS) is adding a new coastal vessel to its fleet in the shape of the RMS Ruhrort... Read more