Rusal operating results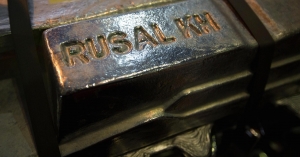 (Posted on 10/02/21)
Rusal, a leading global aluminium producer, has announced operating results for the fourth quarter of 2020 ("4Q20") and for the 12 months ending 31 December 2020 ("12M20")[1].
Aluminium production in 4Q20 totaled 950 thousand tonnes (+1.2% quarter-on-quarter ("QoQ")), with Siberian smelters representing 93% of total aluminium output;
In 4Q20, aluminium sales amounted to 1,028 thousand tonnes (up 2.0% QoQ). During this period, sales of value added products (VAP[2]) increased by 6.2% QoQ, to 483 thousand tonnes, demonstrating the continuing recovery of VAP share in total sales mix to 47% in 4Q20 from 37% in 2Q20, the lowest level during 2020, caused by external market drivers related to the COVID-19 pandemic;
In 4Q20 the Company continued to efficiently adjust its regional sales geography in line with changing market conditions. European destination grew in share to 42% (vs 37% in 3Q20) and Asia's sales decreased to 27% (vs 32% in 3Q20);
In 4Q20, the average aluminium realized price[3] increased by 10.1% QoQ to USD 1,940/t. The increase was driven both by the London Metal Exchange ("LME") QP[4] component (+10.1% QoQ to USD 1,781/t) and the average realized premium component (+10.4% QoQ to USD 159/t). The increase of realized premium during 4Q20 is attributed to the improved commodity component, as well as growth of the VAP share in product sales mix and a positive shift in VAP upcharge. Together these factors reflect the recovery of global market conditions;
In 12M20, aluminium production totaled 3,755 thousand tonnes, unchanged YoY;
In 12M20, aluminium sales decreased by 6.0% YoY, totaling 3,926 thousand tonnes. This reduction in sales is attributable mostly to a higher base in 12M19, when sales volumes were above normal levels due to the partial sell down of surplus inventories of primary aluminium that were accumulated over 2018 as a result of OFAC[5] Sanctions[6]. Sales of VAP increased by 11.3% to 1,722 thousand tonnes. The share of VAP sales in total sales was 44% (vs 37% in 12M19). This improvement of VAP sales during 12M20 was achieved amid market volatility and a decline in global demand for aluminium caused by the
In 12M20, the average aluminium realized price decreased by 6.0% YoY to USD 1,805/t. The LME QP component decreased by 7.1% YoY to USD 1,658/t. This was partially offset by the realized premium, which went up 8.3% to USD 147/t primarily due to a higher share of VAP in the total sales mix.
In 4Q20, total alumina production increased by 6.1% QoQ, to 2,142 thousand tonnes. The Company's Russian operations accounted for 36% of total output;
In 12M20 alumina output totaled 8,182 thousand tonnes (+4.1% YoY). The Friguia bauxite and alumina complex increased output of alumina by 19.3% YoY as a result of the gradual ramp-up of production.
In 4Q20, bauxite production decreased by 7.6% QoQ, to 3,539 thousand tonnes. That was mainly due to a decrease in shipment volume at the Timan refinery in December, due to unfavorable weather conditions. Nepheline output decreased 7.7% QoQ to 1,121 thousand tonnes;
In 12M20, bauxite output totaled 14,838 thousand tonnes (-7.5% YoY). This decline in output is primarily attributed to the suspension of operations of business in Guyana, as announced at the beginning of February 2020. Nepheline output increased 8.4% YoY to 4,599 thousand tonnes.
Latest News
(Posted on 26/11/23)
ADM, a leader in sustainable agriculture supply chains, has announced an important expansion of its... Read more
(Posted on 17/11/23)
Trafigura, a market leader in the global commodities industry, has agreed to invest in an all-in-one... Read more
(Posted on 17/11/23)
ADM and Marathon Petroleum Corp. have celebrated the opening of their joint venture soybean processing... Read more
(Posted on 13/11/23)
Former U.S. Grains Council (USGC) Director of Global Programmes Alejandra Castillo was named the successor... Read more
(Posted on 13/11/23)
Rio Tinto has completed the acquisition of PanAmerican Silver's stake in Agua de la Falda and... Read more
(Posted on 05/11/23)
Cargill has completed an expansion and modernization project at its integrated soybean crush and refined... Read more
(Posted on 31/10/23)
BHP has approved an investment of US$4.9 billion (C$6.4 billion) for stage two of the Jansen potash... Read more
(Posted on 31/10/23)
Rio Tinto and cable solution provider Prysmian are partnering to build a more sustainable North American... Read more
(Posted on 26/10/23)
The American Soybean Association has applauded the U.S. Department of Agriculture's efforts to... Read more
(Posted on 26/10/23)
Rio Tinto has appointed James "Joc" O'Rourke as a non-executive director with effect... Read more