Rusal commissions new open pit bauxite mine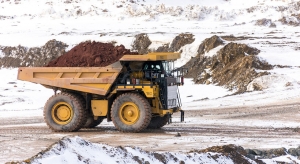 (Posted on 26/04/21)
Rusal, a leading global aluminium producer, has begun mining at a new open pit quarry at the Vezhayu-Vorykvinskoye deposit in the Komi Republic, with reserves of over 14 million tonnes of bauxite.
The new open pit No. 4 will be the largest at the Sredne-Timansky bauxite mine. Mining capital works (the preparation works) lasted three years, during which the miners of Timan Bauxite successfully coped with a significant volume of stripping operations which amounted to 19.5 million cubic meters. In addition, treatment facilities were built and put into operation, and the necessary mining equipment and machinery were purchased.
There were significant investments made in the mining capital works at the Vezhayu-Vorykvinskoye deposit amounting to almost 2.5 billion rubles, the purchase of new machinery and equipment amounted to about 1 billion rubles, and the construction of treatment facilities cost an additional 350 million rubles.
The start of operations at open pit No. 4 is a new stage in the development of the mine. It is expected that by 2022, production will be completed at open pits No. 1 and No. 3 of the Vezhayu-Vorykvinskoye deposit. Land reclamation will be carried out after the completion of the planning works. Mining capital works are also continuing at open pit No. 2 of the Verkhne-Shchugorskoye deposit where production will start in 2023.
"The development of the Sredne-Timansky bauxite mine is the basis for a stable supply of bauxite to RUSAL's alumina refineries in the Urals, and, therefore, a significant part of the Company's supply of its own raw materials. In addition, the commissioning of the new sections will allow Timan Bauxite to contribute to the socio-economic well-being of the region in the long term," noted Yakov Itskov, Director of Alumina Division at RUSAL.
The Timan Bauxite enterprise was founded in December 1992. Ore from its deposits is supplied to RUSAL's alumina refineries in the Urals.
In 2020, Rusal accounted for about 5.8% of global production of aluminium, 6.5% of alumina production and 44% of RUSAL's production accounts for value added products.
Latest News
(Posted on 07/12/23)
Rio Tinto has approved a $77 million (A$110 million) pre-feasibility study (PFS) to progress development... Read more
(Posted on 03/12/23)
Rio Tinto and Giampaolo Group have completed a transaction to form the Matalco joint venture, combining... Read more
(Posted on 03/12/23)
Khalifa Economic Zones Abu Dhabi – KEZAD Group, the largest operator of integrated and purpose... Read more
(Posted on 26/11/23)
ADM, a leader in sustainable agriculture supply chains, has announced an important expansion of its... Read more
(Posted on 17/11/23)
Trafigura, a market leader in the global commodities industry, has agreed to invest in an all-in-one... Read more
(Posted on 17/11/23)
ADM and Marathon Petroleum Corp. have celebrated the opening of their joint venture soybean processing... Read more
(Posted on 13/11/23)
Former U.S. Grains Council (USGC) Director of Global Programmes Alejandra Castillo was named the successor... Read more
(Posted on 13/11/23)
Rio Tinto has completed the acquisition of PanAmerican Silver's stake in Agua de la Falda and... Read more
(Posted on 05/11/23)
Cargill has completed an expansion and modernization project at its integrated soybean crush and refined... Read more
(Posted on 31/10/23)
BHP has approved an investment of US$4.9 billion (C$6.4 billion) for stage two of the Jansen potash... Read more