Rusagrotrans to purchase 500 hopper cars from UWC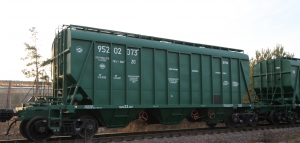 (Posted on 04/10/21)
Research and production corporation United Wagon Company, Russia's largest manufacturer of freight cars, and JSC Rusagrotrans, the largest domestic operator in the grain and other bulk agricultural cargo transportation segment, part of Demetra-Holding, have signed a contract to supply 500 hopper cars until the end of 2021.
The new cars have all the characteristics for maximum efficiency of their operation: high load capacity (76.5 t), enlarged body volume (101 m3), which allows increasing the functional load of the car up to 7%. The acquisition of new rolling stock should significantly speed up and increase the level of mechanization of loading and unloading processes, increase the degree of safety of the transported cargo. Cars with these characteristics are planned to be used in the implementation of the railway transportation routing programme.
According to Alexei Gribanov, President of RTC Group and First Deputy General Director of Demetra-Holding, the companies intend to develop the routing of rail shipments of grain actively. "In just one year, the company's direct shipment volume has grown from 257,000 t to 1.1 million t, which is almost 10% of all grain export shipments in the 2020/21 season. To maintain the growth rate, there will be required the transformations related to modernization of rolling stock, digitalization of services and synergy with other companies of the holding," he noted.
"Demetra-Holding" is Russia's largest vertically integrated grain holding, uniting assets in transport export logistics and trading. The holding company includes Russia's largest grain terminals - Novorossiysk Grain Terminal (100%), Novorossiysk Grain Plant (35.36%), and Taman Grain Terminal Complex (50%).
The holding owns a 50%-1% stake in United Grain Company (OZK) and 100% in RusTransCom, including Rusagrotrans, the leading operator in railway transportation of grain in Russia. As well as over 75% stake in Smartseeds GC, the leading digital platform for grain transportation in Russia, and 50% of the marketplace for agrarian business Field.rf.
The company owns 100% of the shares of Demetra Trading, a prominent grain exporter, one of the top three grain exporters in Russia, and 100% of the shares of Ipatovsk Grain Processing Plant.
RTC Group is a diversified railway group, the leader in specialized segments of Russia's freight rail transportation market. The largest transportation company of agricultural, mineral and timber cargoes. The united car fleet of RTC Group includes 68,000 units of rolling stock, including all types of hopper cars, gondola cars, platforms for timber transportation, container and universal platforms, tanks for vegetable oils. The Group of companies is among the top three largest Russian independent rolling stock operators in terms of the volume of car fleet under management.
Latest News
(Posted on 26/11/23)
VIKING Life-Saving Equipment, a global leader in maritime safety solutions, is launching an innovative... Read more
(Posted on 26/11/23)
Damen's client Gerdes Green has received a subsidy from the German Government for the investment... Read more
(Posted on 17/11/23)
A first of its kind training course for the Middle East has been held to teach mariners about the basic... Read more
(Posted on 13/11/23)
Wärtsilä ANCS, part of technology group Wärtsilä, has delivered to Seaspan, a marine... Read more
(Posted on 31/10/23)
The flag raising ceremony for three new ASD Tugs has taken place in Gdansk, Poland. In the presence... Read more
(Posted on 26/10/23)
A new immersive crane simulator that can recreate high-risk scenarios without putting drivers or other... Read more
(Posted on 23/10/23)
Vesto Ropes, a global leader in innovative steel wire-rope solutions, has announced a strategic partnership... Read more
(Posted on 23/10/23)
Bedeschi S.p.a. has been awarded a contract for the design and supply of a new longitudinal storage... Read more
(Posted on 18/10/23)
Rhenus Maritime Services (RMS) is adding a new coastal vessel to its fleet in the shape of the RMS Ruhrort... Read more
(Posted on 18/10/23)
Dualog, a leading maritime software provider, has introduced a major enhancement to the Dualog Drive... Read more