Rio Tinto share buy-back details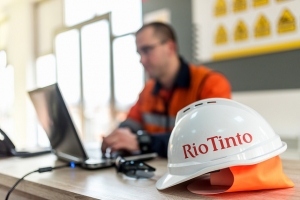 (Posted on 20/09/18)
Rio Tinto has unveiled the details of how it intends to return approximately $3.2 billion of post-tax coal disposal proceeds to its shareholders.

The proceeds will be returned through a $3.2 billion share buy-back programme (the "Programme"), combining an off-market buy-back tender targeting up to 41.2 million Rio Tinto Limited shares (approximately A$2.7 billion ($1.9 billion )) and further on-market purchases of Rio Tinto plc shares. The Programme is subject to market conditions and compliance with all applicable laws and regulations.

Rio Tinto chief executive J-S Jacques said "Returning $3.2 billion of coal disposal proceeds demonstrates our commitment to capital discipline and providing sector leading shareholder returns. We continue to focus our portfolio on those assets which provide the highest returns and growth, which will ensure that we continue to deliver superior value to our shareholders in the short, medium and long term".

Rio Tinto Limited will target the completion of the off-market purchase of up to 41.2 million of its shares in 2018, being the maximum number of shares that may be repurchased by Rio Tinto Limited under the Buy-Back in accordance with the terms of the shareholder approval granted at Rio Tinto Limited's 2018 annual general meeting. The aggregate maximum consideration and timing of the new on-market purchases by Rio Tinto plc under the Programme will be announced following the completion of the off-market buy-back tender for Rio Tinto Limited shares, which is expected to be on 12 November 2018. This is in addition to the existing Rio Tinto plc buy-back programmes, of which $1.7 billion in shares remain to be purchased and which will be completed no later than 27 February 2019.

All shares purchased will be cancelled.

The $3.2 billion of net disposal proceeds is derived from the completed sales of Hail Creek and Valeria (pre-tax $1.7 billion), Winchester South (pre-tax $0.2 billion) and Kestrel (pre-tax $2.25 billion). The sale of Rio Tinto's Aluminium Dunkerque smelter in northern France for $500 million, subject to final adjustments, is yet to be completed. As announced on 14 September, Hydro has withdrawn its offer to acquire the ISAL smelter in Iceland ($345 million) following initial feedback from the European Commission. The timing and form of shareholder returns in respect of further proceeds arising from disposals still to be completed will be announced with the 2018 full year results.
Latest News
(Posted on 20/03/23)
Rio Tinto increased its spend with Australian suppliers to more than A$15.3 billion in 2022, as part... Read more
(Posted on 20/03/23)
Trafigura Group Pte Ltd., a market leader in the global commodities industry, has announced the closing... Read more
(Posted on 07/03/23)
Nexyst 360, an innovative grain transportation solution provider, has partnered with Nexxiot to digitalize... Read more
(Posted on 28/02/23)
Cargill has announced the appointments of Joanne Knight as Chief Financial Officer (CFO) and Philippa... Read more
(Posted on 24/02/23)
Trafigura, a market leader in the global commodities industry, has entered into a USD 500 million five... Read more
(Posted on 22/02/23)
British Steel has announced proposals to close its coke ovens as part of its drive to overcome global... Read more
(Posted on 20/02/23)
Global miner Rio Tinto and Japanese trader and business conglomerate Marubeni Corporation have agreed... Read more
(Posted on 20/02/23)
Trafigura, a market leader in the global commodities industry, and Ecobat, the global leader in battery... Read more
(Posted on 13/02/23)
Hydrogen is at the core of the green steel transition. Ensuring access to this scarce resource &ndash... Read more
(Posted on 08/02/23)
Tata Steel has established a Centre for Innovation in Mining and Mineral Beneficiation at the Indian... Read more