Rio Tinto 2018 iron ore shipments rise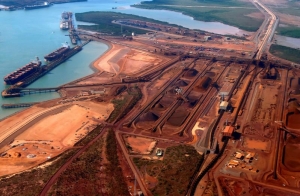 (Posted on 22/01/19)
On the release of the company's fourth quarter results, Rio Tinto chief executive J-S Jacques said "We delivered a solid operational performance in the final quarter of 2018, in particular across our copper assets. During the year, we further strengthened our asset portfolio, continuing to invest in high quality growth. 2018 saw the early completion of Amrun, the deployment of AutoHaul, the Koodaideri and Robe River investments and the signing of the power agreement at Oyu Tolgoi. Meanwhile, we completed disposals of $8.6 billion, including the Grasberg mine in Indonesia and our remaining coal assets. With a firm 'value over volume' focus and disciplined allocation of capital, we will continue to progress our strategic objectives and to deliver superior returns to shareholders in the short, medium and long term."
Pilbara iron ore shipments of 338 million tonnes (100 per cent basis) in 2018 were two per cent higher than 2017.
During the quarter, Rio Tinto announced it had successfully deployed AutoHaul at its Pilbara operations, approved a $2.6 billion investment in the Koodaideri iron ore replacement mine, and approved an investment of $1.55 billion (Rio Tinto's 53 per cent share $820 million) at two projects to sustain production capacity at the Robe River Joint Venture.
Bauxite production of 50.4 million tonnes in 2018 was one per cent lower than 2017. Third party shipments increased by two per cent to 32.8 million tonnes. During the fourth quarter, commissioning works at CBG in Guinea and the transition of operations from East Weipa to Amrun in Queensland resulted in a short term drop in production.
Aluminium production of 3.5 million tonnes was three per cent lower than 2017 due primarily to ongoing labour disruptions at the non-managed Becancour smelter in Canada.
Mined copper production of 634 thousand tonnes was 33 per cent higher than 2017, and above the guidance range, primarily reflecting strong performance at Escondida and increased production from Rio Tinto Kennecott due largely to higher grades.
Titanium dioxide slag production of 1.1 million tonnes was 15 per cent lower than 2017 due to production disruptions at Rio Tinto Fer et Titane in the second quarter, and intermittent stoppages related to labour disputes between contractors and their employees at Richards Bay Minerals in the first half.
Fourth quarter production at Iron Ore Company of Canada was four per cent higher than the fourth quarter of 2017. However, 2018 production was 20 per cent lower than 2017, due to a strike at the mine that significantly impacted second quarter production.
Other major milestones in the quarter included first bauxite shipment from Amrun, achieved six weeks ahead of schedule, and the signing of the Power Source Framework Agreement between Oyu Tolgoi and the Government of Mongolia.
Latest News
(Posted on 24/03/23)
BHP and global engineering, project management and professional services firm, Hatch, have signed an... Read more
(Posted on 20/03/23)
Rio Tinto increased its spend with Australian suppliers to more than A$15.3 billion in 2022, as part... Read more
(Posted on 20/03/23)
Trafigura Group Pte Ltd., a market leader in the global commodities industry, has announced the closing... Read more
(Posted on 07/03/23)
Nexyst 360, an innovative grain transportation solution provider, has partnered with Nexxiot to digitalize... Read more
(Posted on 28/02/23)
Cargill has announced the appointments of Joanne Knight as Chief Financial Officer (CFO) and Philippa... Read more
(Posted on 24/02/23)
Trafigura, a market leader in the global commodities industry, has entered into a USD 500 million five... Read more
(Posted on 22/02/23)
British Steel has announced proposals to close its coke ovens as part of its drive to overcome global... Read more
(Posted on 20/02/23)
Global miner Rio Tinto and Japanese trader and business conglomerate Marubeni Corporation have agreed... Read more
(Posted on 20/02/23)
Trafigura, a market leader in the global commodities industry, and Ecobat, the global leader in battery... Read more
(Posted on 13/02/23)
Hydrogen is at the core of the green steel transition. Ensuring access to this scarce resource &ndash... Read more