Project to monitor global fertilizer usage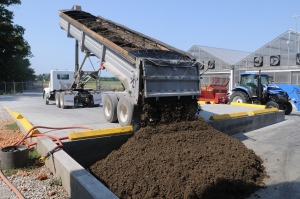 (Posted on 01/04/21)
The International Fertilizer Association (IFA) and agri benchmark Cash Crop have announced the start of a joint project. Its aim is to make the use of fertilizers in global crop production transparent to the public and to all stakeholders.
Fertilizer use in crop production is a very topical issue: on the one hand it is the cornerstone for improved crop growth and hence an important part of global food security. On the other hand, the inefficient use of fertilizers can contribute to environmental issues globally.
For IFA's Chief Scientist Achim Dobermann "it is key to develop a better understanding of actual global fertilizer use. A solid baseline provides the foundation for developing interventions and it is necessary for measuring how well these interventions are performing to improve and sustainably expand the use of fertilizers across the world."
Therefore, the project will deliver the following key outputs:
(1) National averages in nutrient application per hectare of arable land for all major field crops and perennial crops.
(2) Estimates for national fertilizer use in crop production in total.
(3) Specific fertilizer use per ton of crop output.
The current project will initially look at seven countries in the Americas, Europe, Asia, and Africa and will be completed in March of 2022. However, provided this pilot phase generates the expected outcome, both parties will continue working together on a global roll out.
Yelto Zimmer, who is coordinating the agri benchmark network at the Thünen Institute says: "We will work very closely with our national crop production economists to identify major differences in fertilization strategies in the countries of interest. Based on regional statistics, national estimates will be generated. With this project, agri benchmark will be able to broaden its global data on crop production economics data."
The International Fertilizer Association (IFA) promotes the efficient and responsible production, distribution and use of plant nutrients to enable sustainable agricultural systems that contribute to a world free of hunger and malnutrition.
Latest News
(Posted on 23/01/23)
BHP Xplor, an accelerator programme introduced by BHP in August 2022, has announced its first cohort... Read more
(Posted on 16/01/23)
Trafigura Group Ptd Ltd., a market leader in the global commodities industry, has made a public carbon... Read more
(Posted on 10/01/23)
Jace Hefner has joined the U.S. Grains Council (USGC) in its Washington, D.C., headquarters as the new... Read more
(Posted on 10/01/23)
Cargill has announced that Jamie Miller will step down as Chief Financial Officer to accept an opportunity... Read more
(Posted on 10/01/23)
Adbri Limited has announced that it has extended its cementitious materials supply arrangement with... Read more
(Posted on 04/01/23)
Khalifa Economic Zones Abu Dhabi – KEZAD Group, the integrated trade, logistics, and industrial... Read more
(Posted on 23/12/22)
Australian agribusiness GrainCorp is co-leading a $12 million investment round into rural connectivity... Read more
(Posted on 20/12/22)
BHP has provided an update to its announcement on 18 November 2022 that confirmed BHP had entered into... Read more
(Posted on 20/12/22)
Rio Tinto has appointed Kaisa Hietala as a non-executive director. Ms Hietala, a Finnish citizen, will... Read more
(Posted on 13/12/22)
Trafigura Group Pte Ltd, a market leader in the global commodities industry, has released its results... Read more