Port of Dover operates Liebherr LHMs powered by HVO 100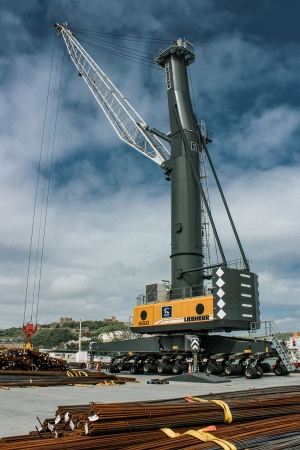 (Posted on 20/10/22)
Two Liebherr mobile harbour cranes, an LHM 280 and LHM 550 have been installed at the Port of Dover to strengthen a fleet of equipment that enables the multipurpose terminal to handle and distribute all types of cargo arriving and departing from the world's busiest shipping lane.
The LHM 550 is the larger of the pair, able to lift 104 tonnes and with a maximum reach of 54 metres, while its smaller stablemate has an 84-tonne lift capacity and will reach out to 40 metres, meaning they can handle steel, breakbulk, containers, palletised fruit, and many other loads. The robust design of the Liebherr LHM cranes was an important factor for the Port of Dover when procuring the cranes, especially given the exposed and windy nature of the terminal in Dover. The two cranes have the ability to work in wind speeds of up to a Force 9 severe gale (75-88 km/h), meaning vessels can be unloaded all year round, in nearly all weather conditions. Among the benefits of the cranes is their ability to run on HVO 100.
Cleaner drive concepts for vehicles and machines are becoming more important than ever in order to reduce CO2 emissions. Hydrotreated Vegetable Oils (HVO) play an important role at Liebherr. HVO is an alternative fuel, which can now be used in the majority of the Liebherr construction machines, cranes and mining equipment in pure form or in addition to fossil diesel.
When working on new drive concepts Liebherr relies on HVO, among others, as an alternative fuel. Its manufacture is climate-neutral if electricity is solely generated from renewable energy sources. In addition, it generates fewer emissions during its use than a machine operated with fossil diesel fuel. This becomes clear in a comparison: During the life cycle of a product the greenhouse gas emissions can be lowered by up to 90% if the machine is fuelled with Neste MY Renewable Diesel (= HVO 100) instead of fossil diesel.
When the cranes were delivered, Karen Hayes, General Manager at Port of Dover Cargo, commented: "Since our new terminal in the Western Docks opened just over a year and a half ago, our business has flourished. We have continued to adapt to the latest technologies and techniques, enabling the team to process every range of cargo in the industry and expand our customer base even further." The team at Dover is particularly pleased that the cranes are running on HVO, as this is supporting the Port's drive towards achieving its recently announced industry-leading decarbonisation targets.
Robert Alexander, Sales Manager at Liebherr-Great Britain, said: "It has been a pleasure working with the team at Port of Dover. We wish the port every success as they expand their operations, and we look forward to working with them in the future."
Latest News
(Posted on 26/11/23)
VIKING Life-Saving Equipment, a global leader in maritime safety solutions, is launching an innovative... Read more
(Posted on 26/11/23)
Damen's client Gerdes Green has received a subsidy from the German Government for the investment... Read more
(Posted on 17/11/23)
A first of its kind training course for the Middle East has been held to teach mariners about the basic... Read more
(Posted on 13/11/23)
Wärtsilä ANCS, part of technology group Wärtsilä, has delivered to Seaspan, a marine... Read more
(Posted on 31/10/23)
The flag raising ceremony for three new ASD Tugs has taken place in Gdansk, Poland. In the presence... Read more
(Posted on 26/10/23)
A new immersive crane simulator that can recreate high-risk scenarios without putting drivers or other... Read more
(Posted on 23/10/23)
Vesto Ropes, a global leader in innovative steel wire-rope solutions, has announced a strategic partnership... Read more
(Posted on 23/10/23)
Bedeschi S.p.a. has been awarded a contract for the design and supply of a new longitudinal storage... Read more
(Posted on 18/10/23)
Rhenus Maritime Services (RMS) is adding a new coastal vessel to its fleet in the shape of the RMS Ruhrort... Read more
(Posted on 18/10/23)
Dualog, a leading maritime software provider, has introduced a major enhancement to the Dualog Drive... Read more