Phoenix provides floodlights for USNS Comfort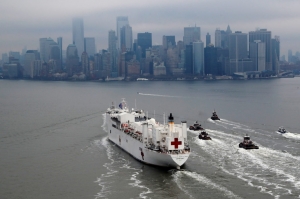 (Posted on 22/04/20)
With the drastic increase in COVID-19 cases, the USNS Comfort was recently deployed to New York to provide relief for land-based hospitals that were over-capacity and struggling to keep up with the escalating number of critical patients.
In order to properly accommodate this mission, the Navy required hull perimeter and waterline security lighting that the current traditional fixtures couldn't provide. The USNS Comfort would benefit from an immediate upgrade to LED. The Navy looked to Phoenix Lighting – its longstanding lighting supplier in Milwaukee, Wisconsin. Working closely with its distribution partners, Federal Resources and Resource Lighting and Controls, Phoenix was able to meet the Navy's needs.
In a matter of four days, Phoenix Lighting customized, built and delivered ModCom 2 LED floodlights to give the USNS Comfort the updated safety, light quality and efficiency required for the current deployment.
Phoenix Lighting designs and manufactures superior lighting fixtures for the world's harshest environments. With headquarters and operations based in the USA, the company has been serving the marine industry since the 1970s. With 75 years of lighting experience, Phoenix also serves the port and terminal market. Phoenix LED fixtures bring a high level of safety and efficiency to bulk ports with the highest level of technology.
"Doing our part to assist the US Navy during this critical time has motivated the team and instilled a sense of pride in all of us," commented Jeff Konkel, VP of Operations at Phoenix Lighting. "I commend everyone involved for working quickly and efficiently when it was needed the most."
Phoenix would like to thank Federal Resources and Resource Lighting & Controls for their cooperation in this project and their valued, industry partnerships.
The USNS Comfort is a Navy hospital ship that has all the amenities of a land-based medical facility - lab services, radiology, pharmacy, helicopter landing platform and, most importantly, the capacity for 1000 patients. From the Persian Gulf War to Hurricane Katrina, the USNS Comfort has responded to some of the world's most critical needs.
Latest News
(Posted on 20/03/23)
Thordon Bearings is supplying its grease-free, self-lubricating ThorPlas-Blue bearing material to a... Read more
(Posted on 20/03/23)
French water treatment specialist BIO-UV Group has appointed Laurent-Emmanuel Migeon as its new Chairman... Read more
(Posted on 07/03/23)
With Wärtsilä's CII Dashboard, Anglo-Eastern is now able to make better informed decisions... Read more
(Posted on 07/03/23)
Bruks Siwertell has completed the commissioning of two large-scale Siwertell ST 790-D-type ship unloaders... Read more
(Posted on 28/02/23)
A consortium including technology group Wärtsilä has secured European Union funding to develop... Read more
(Posted on 28/02/23)
Bruks Siwertell has received an order for a next-generation Siwertell road-mobile ship unloader from... Read more
(Posted on 24/02/23)
Global Survival Technology solutions provider Survitec has introduced a new, formalised pre-inspection... Read more
(Posted on 24/02/23)
The slightest deviation in the machining, polishing, and finishing of ships' propeller blades... Read more
(Posted on 20/02/23)
Bühler expanded its business and improved profitability in an uncertain and volatile business environment... Read more
(Posted on 20/02/23)
Wärtsilä plans to further focus on end-to-end voyage optimisation and to move part of Voyage... Read more