Peter Sorensen passes the torch to Kirsten Sorensen at EMS-Tech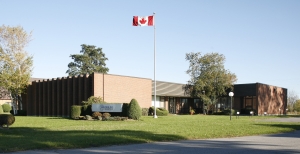 (Posted on 27/09/23)
EMS-Tech Inc., a global leader in engineering and innovation within the dry bulk material handling industry, has announced a leadership transition. Founder and visionary, Peter Sorensen, has officially transferred his title of President to Kirsten Sorensen, marking an exciting new chapter in EMS-Tech's history.
The driving force behind EMS-Tech's success, Peter Sorensen, will continue to serve as CEO, focusing on guiding the company's expansion into new markets and supporting its growth initiatives. His wealth of experience and vision will remain invaluable assets to the organization.
Kirsten Sorensen began her journey with EMS-Tech in 2001 and has risen with distinction. Over the years, her roles have encompassed engineering, project management, and significant equipment consulting across the globe. In 2012, Kirsten assumed leadership of the Engineering and Design Team, a role she would assume in her appointment as Vice-President Engineering and Corporate Director in 2020. Kirsten's exceptional skills and leadership have supported EMS-Tech's growth.
In her new capacity as President, Kirsten Sorensen will steer the company with a focus on engineering skills growth, continued innovation, and a commitment to excellence in the market. Her vision for EMS-Tech is to expand global engineering expertise, setting the stage for a future defined by innovation, efficiency, and forward-thinking strategies.
Peter Sorensen expressed his confidence in Kirsten's ability to lead EMS-Tech into this exciting phase: "I am immensely proud of Kirsten's accomplishments and dedication to EMS-Tech over the years. This transition is a testament to her exceptional leadership and our commitment to ensuring a bright future for EMS-Tech."
Kirsten Sorensen also shared her enthusiasm for her new role: "I am honoured and excited to lead EMS-Tech into the future. We have a remarkable team and a rich legacy of innovation to build upon. I look forward to steering our engineering excellence to new heights and charting a course for greater success."
EMS-Tech remains committed to delivering cutting-edge engineering solutions to its clients worldwide. With this leadership transition, the company is poised for continued growth and innovation in the years ahead.
Latest News
(Posted on 07/12/23)
In an initiative set to be transformational for ship design while protecting the oceans from pollution... Read more
(Posted on 03/12/23)
Ship design, particularly the design of bulk carriers, presents particular challenges when it comes... Read more
(Posted on 26/11/23)
VIKING Life-Saving Equipment, a global leader in maritime safety solutions, is launching an innovative... Read more
(Posted on 26/11/23)
Damen's client Gerdes Green has received a subsidy from the German Government for the investment... Read more
(Posted on 17/11/23)
A first of its kind training course for the Middle East has been held to teach mariners about the basic... Read more
(Posted on 13/11/23)
Wärtsilä ANCS, part of technology group Wärtsilä, has delivered to Seaspan, a marine... Read more
(Posted on 31/10/23)
The flag raising ceremony for three new ASD Tugs has taken place in Gdansk, Poland. In the presence... Read more
(Posted on 26/10/23)
A new immersive crane simulator that can recreate high-risk scenarios without putting drivers or other... Read more
(Posted on 23/10/23)
Vesto Ropes, a global leader in innovative steel wire-rope solutions, has announced a strategic partnership... Read more
(Posted on 23/10/23)
Bedeschi S.p.a. has been awarded a contract for the design and supply of a new longitudinal storage... Read more