PD Ports invest £23m in innovative new dredging vessel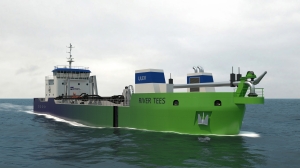 (Posted on 20/07/23)
PD Ports in the UK, has confirmed its commitment to the economic success and environmental sustainability of the River Tees with a £23m investment in a new, state of the art dredging vessel.
The 71m long dredger, which has already been named the Emerald Duchess following a competition among PD Ports employees, is due to arrive at Teesport next summer.
The vessel has been designed and built by renowned Dutch shipbuilder Neptune to an exacting specification with the help of PD Ports' technical experts to ensure it can carry out its tasks on the Tees to the highest environmental and safety standards.
Currently under construction at a shipyard in Poland for commissioning, ahead of trials in the Netherlands in 2024, the Emerald Duchess will replace the Cleveland County, which had served the Tees under PD Ports' conservancy team for 50 years.
The new vessel has been 'future-proofed' with a number of bespoke design features that will eventually allow carbon neutral operations.
Fitted with an innovative intelligent power management system, the Emerald Duchess can swap between power from a battery pack equivalent to 10 Tesla cars and fuel made from hydrotreated vegetable oil (HVO), also known as renewable diesel.
It is also ready for future innovation, with hatches above the engine room that will allow power units to be swapped out for modern fuel cells as the technology matures, using methanol or ethanol fuel.
Extensive modelling, using computational fluid dynamics, has taken place to create a hull that is as refined as possible while moving through the water to minimise fuel consumption.
The investment in Emerald Duchess, which will be able to carry 2,500 tonnes and hold up 2000 cubic metres of dredged material, is a further step in PD Ports' commitment to be Carbon Neutral by 2027, supporting its ambitions to become the UK's most sustainable port operator.
As Statutory Harbour Authority (SHA), PD Ports has the powers to dredge to legally agreed levels to allow commercial operations along the Tees and at Hartlepool, creating a safe and consistent passage for vessels of depths up to 17metres.
The method of removing sediment brought into the river by the tides, which is then discharged into designated areas off the coast, is closely monitored and regulated by the Marine Management Organisation with a process that has been in place for more than 50 years.
Frans Calje, chief executive officer of PD Ports, said: "The Emerald Duchess represents a major investment in our conservancy operations as SHA and shows our high level of commitment to the socio-economic development of the River Tees and the wider region.
"The vessel is a step ahead in terms of crew safety and sustainability and will strongly support our commitment to becoming a Carbon Neutral operation, using low emission fuel and an innovative layout to make it more fuel efficient.
"Every investment we make is targeted to keep our environmental impact to a minimum, while also supporting the growth and success of the region and the commercial operators who rely on the river. I look forward to the Duchess' arrival on our shores next summer."
Latest News
(Posted on 07/12/23)
In an initiative set to be transformational for ship design while protecting the oceans from pollution... Read more
(Posted on 03/12/23)
Ship design, particularly the design of bulk carriers, presents particular challenges when it comes... Read more
(Posted on 26/11/23)
VIKING Life-Saving Equipment, a global leader in maritime safety solutions, is launching an innovative... Read more
(Posted on 26/11/23)
Damen's client Gerdes Green has received a subsidy from the German Government for the investment... Read more
(Posted on 17/11/23)
A first of its kind training course for the Middle East has been held to teach mariners about the basic... Read more
(Posted on 13/11/23)
Wärtsilä ANCS, part of technology group Wärtsilä, has delivered to Seaspan, a marine... Read more
(Posted on 31/10/23)
The flag raising ceremony for three new ASD Tugs has taken place in Gdansk, Poland. In the presence... Read more
(Posted on 26/10/23)
A new immersive crane simulator that can recreate high-risk scenarios without putting drivers or other... Read more
(Posted on 23/10/23)
Vesto Ropes, a global leader in innovative steel wire-rope solutions, has announced a strategic partnership... Read more
(Posted on 23/10/23)
Bedeschi S.p.a. has been awarded a contract for the design and supply of a new longitudinal storage... Read more